The wheeled prospective marine infantry fighting vehicle (BMMP), which is being created under the code BMMP Platform, will surpass the Chinese VN18, which has been said so much lately, which is similar in purpose, writes
Messenger of Mordovia
.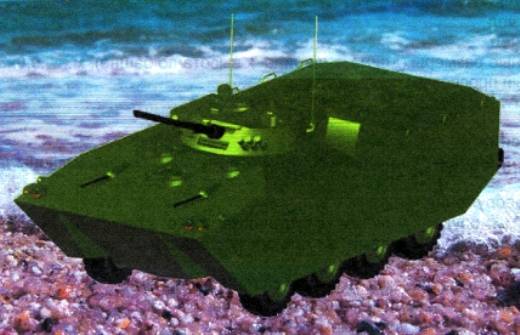 It is planned that the Russian amphibian will receive a gas turbine engine with a capacity of 1250 hp, which has proven itself well on
tanks
T-80U. "As a result, a vehicle weighing 30,7 tons will be able to reach a maximum speed of about 60 km / h on land. When moving on water with a sea wave of up to 2 balls and a wave height of 75 cm, it will be able to move at a speed of 37 km / h, "says Lev Romanov's article.
According to him, the car will have a water jet and a special convertible body to reduce hydrodynamic resistance.
Fighting department BMMP - similar to that which is available on BMP-3. "The 100-mm cannon-launcher 2А70 is capable of using not only conventional shells, but also can launch guided long-range missiles. With it docked small-caliber automatic 30-mm gun 2А72 and machine gun caliber 7,62 mm. Plus two more machine guns of caliber 7,62 mm in front of the case, "the author writes.
In addition to the crew on board can be up to 10 paratroopers.
The machine will be able to leave the landing craft at a distance of 40-60 km from the coast and at maximum speed go to the landing areas.