He was a soldier too. He also fought for Russia. And he was one of those whom the country was proud of (and would be proud of!) By right. Only its front was cultural - sometimes it also takes a lot of courage. "
He is an incredibly courageous man. His death is a tragedy for all of us. There will never be such a voice like that of Khvorostovsky
", - said the friend of the singer, conductor Konstantin Orbelyan in an interview with Komsomolskaya Pravda.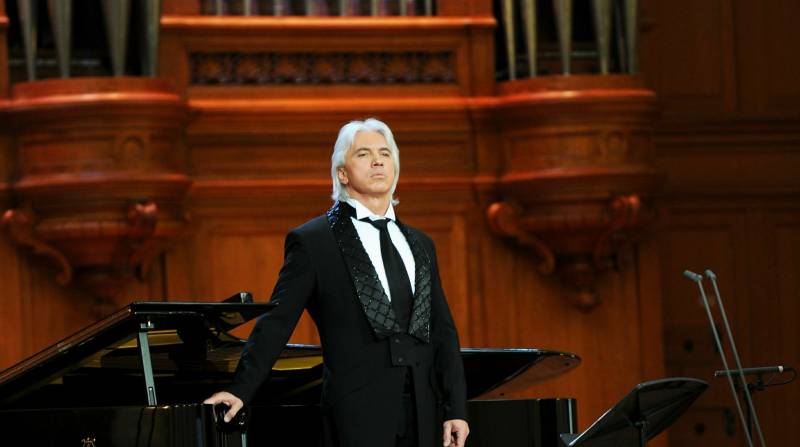 This death is one of the most terrible losses of Russia. Recently, the country has lost a lot of creative, talented people, among them - actor Dmitry Maryanov, a writer, satirist and publicist Mikhail Zadornov, and now - and an outstanding world-scale baritone Hvorostovsky. We knew that he was seriously ill, that he fought stubbornly with illness. And yet, when the sad news spread, I could not believe in its truth. After all, there were already similar messages that turned out to be untrue ... Just a little more than a month ago, on October 16, he celebrated his 55 anniversary ... But on November 22, Dmitry Aleksandrovich really died in a hospice near London.
In the difficult years of timelessness, an outstanding singer was forced to leave Russia - his talent in the gangster 90 was not in demand. In the fashion were, mostly ephemeral, one-day writers (unfortunately, the situation in the field of art after all these blows still cannot get better).
Someone may argue that there were then artists with the position "I remain with the deceived people." However, circumstances are different, and most importantly - this is not the physical location of a person.
You can go abroad, remaining a patriot at heart and spreading Russian culture throughout the world. And it is possible, physically staying in the Homeland, to water it abundantly with mud and even with its "art" work against Russia.
One of those "figures", Andrei Makarevich, was not even able to squeeze out condolences because of the death of Dmitry Khvorostovsky, he just answered sharply to the journalists who called him on a mournful day ...
As for Khvorostovsky, he showed the whole world what a Russian singer should be, who passionately loves his Homeland. His repertoire included the opera arias of Russian composers, and the vocal poem to Alexander Blok's poems "Petersburg" (composer — Georgi Sviridov), and G. Sviridov's vocal cycle to Sergei Yesenin's "Despair of Russia", imbued with feelings of the deepest patriotism ... "
I am a Russian person living and working in the West. Therefore, any hostile word in relation to our culture, I perceive with hostility
"He said. And here is another quote: "
Yes, very many people would like to love our country, having it on their knees. I do not like this posture of the country
».
But the main thing for which Khvorostovsky's memory should be honored on "Military Review" is the album "Songs of the War Years", which he created in 2003 year together with the State Academic Chamber Orchestra (led by the aforementioned Konstantin Orbelian), the Style Five Ensemble and the choir "Spiritual rebirth." The album includes such well-known songs as: "At a nameless height", "Dark night", "The accidental waltz", "Oh, the roads", "Cranes", "Covenant stone", "In the dugout" and many others.
Dmitry Alexandrovich was proud of this album. "
First, I grew up on them [songs of the war years], and secondly, this program is a tribute to my grandmother, thanks to whom I know these songs
", - he answered the question why he, the opera singer, suddenly started singing about the war.
In June, the 2005 of the Year of the Years Songs was presented in Volgograd (Stalingrad) at a concert dedicated to the 60 anniversary of the Great Victory. Hvorostovsky then stated that he would travel with these songs to many countries. "
There is interest in the West.
"He said.
It is very likely that a European or an American, who does not even know Russian, after listening to the once perky "Katyusha" or the mournful "At anonymous height" performed by a talented singer, will no longer believe in black anti-Russian propaganda.
«
This is brilliant music that comes to hearts. I watched as at one of the concerts where I sang these songs, people who do not understand Russian cried
"- said the artist about the impressions of foreigners who listened to these, without exaggeration, masterpieces.
In 2013, he again visited Volgograd, speaking at the celebration of the 70 anniversary of the Battle of Stalingrad. The authorities of this city wanted to invite him to the 70 anniversary of Victory, but it did not work out anymore ...
Dmitry Hvorostovsky was full of creative plans. Unfortunately, a serious illness put an end to most of them. Moreover, the simple way - to go on stage and sing to a phonogram - was categorically unacceptable for him. Each concert demanded great dedication from him. After the terrible diagnosis (cancer) became known in 2015, the singer, at the insistence of the doctors, was forced to cancel many of his concerts. But, as the poetess Lilia Vinogradova, who spoke with him, said, Hvorostovsky did not stop daily singing and dreamed of performing.
Contrary to the disease, he still went to the scene. In particular, he really wanted to give a concert in his native city - Krasnoyarsk. Doctors did not recommend him to fly, as the singer was already in a very serious condition. But 27 May 2017, Hvorostovsky spoke at the City Day in St. Petersburg, and 2 June - in his small homeland, despite the fact that it required him to perseverance and courage. Eyewitnesses of the Krasnoyarsk concert recollect: he came on stage, limping, with a broken shoulder (he received this injury in St. Petersburg), it was hard to watch, but he smiled and even joked.
And at his most recent concert, which was held on 22 of June of this year in Austria, Hvorostovsky sang a wonderful Soviet song "Moscow Nights." He was applauded while standing ...
In an interview with Rossiyskaya Gazeta (published on November 10, 11), Dmitry Alexandrovich shared his creative plans - before the New Year to hold a concert in Moscow. In the same interview, he stated: "
If what I want is for people to know and remember my voice, and not read fables and gossip around my name
».
It is painful to realize that there will no longer be a pre-New Year concert in Moscow or any other performances by Hvorostovsky. Some media already spread gossip about the artist's legacy.
But his main legacy is his songs and his unique voice.
A voice that will be known and remembered. And which will certainly sound from the speakers, not only in Russia, but throughout the world.