The command of the Argentine Navy reports a possible explosion aboard the San Juan diesel-electric submarine. Recall that the boat, the crew that was 44 person at the time of the transition from Ushuaia to Mar del Plata, ceased to get in touch last week. The last signal from the board was recorded at a military base about 400 km from the coast.
A statement about the possible explosion on board the submarine was made by the representative of the Navy Agentina Enrique Balbi:
We learned about the anomalous thermal phenomenon, non-nuclear. It was short and small in power. May correspond to an explosion.
Recall that on the eve it was reported about a thermal phenomenon in the southwestern Atlantic, but there was no talk of an explosion. An anomaly found the American military aircraft "Boeing P-8 Poseidon". Now the Argentine Navy is considering just such a version - a version of an explosion aboard a submarine.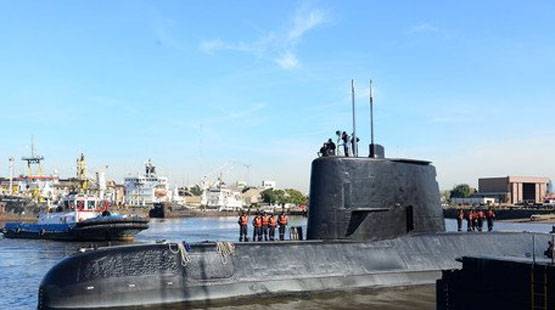 Recall that Russia offered its assistance in conducting a search and rescue operation. In Argentina, it is noted that the Russian deep-water apparatuses can be activated after establishing the exact square in which the submarine submarine of the country is located.