Russian President Vladimir Putin sent an appeal to his Argentinian colleague, which offered Russian assistance in finding the San-Juan diesel-electric submarine that went missing last week. Recall that the submarine of the Argentine Navy with 44 crew members on board stopped communicating during the transition from the city of Ushuaia to the base of Mar del Plata. The last communication signals were recorded approximately 400 km from the coast.
Since last Thursday, in search of the missing submarine, forces and means have participated not only in Argentina itself, but also in Uruguay, Brazil, Chile, the USA, and the United Kingdom.
The Kremlin press service:
On the Russian side, it was proposed to provide appropriate assistance in search and rescue operations. It was agreed to maintain contacts on this score between the ministries of defense of both countries.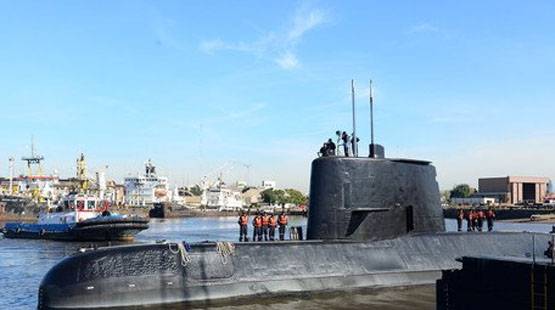 Meanwhile in american
editions
Today, a statement appeared that the US Air Force plane allegedly discovered a "thermal and hydroacoustic anomaly" at a depth of about 70 m in the area of ​​the intended submission of the last communication signal of the San-Juan diesel-electric submarine. The media reports that for finding a submarine there. At the moment there is no official confirmation of the discovery of a submarine from the Argentine authorities.