The Ministry of Emergency Situations of Russia has formed a 71 th vehicle convoy with humanitarian aid for Donbass, which will go to Donetsk and Lugansk regions on November 23, the press service of the Emergencies Ministry said on Wednesday.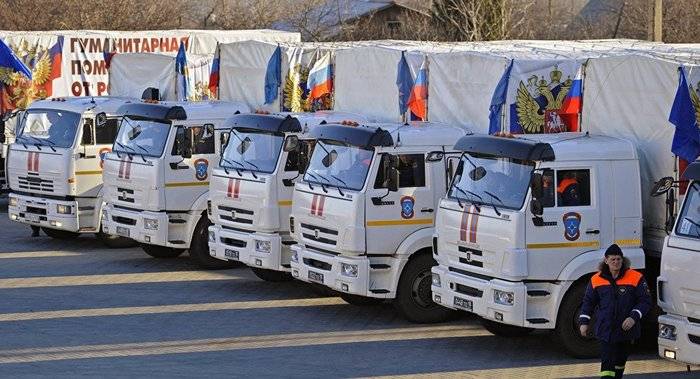 The EMERCOM of Russia has completed the formation on the territory of the Don Rescue Center in the Rostov Region of the 71 of the humanitarian column. Tomorrow cars will go to Donetsk and Lugansk regions
- Said the source agency.
The convoy will deliver more than 500 tons of humanitarian aid to the residents of Donbass. The cargo includes children's food packages, medicines, medical equipment and children's gifts. The convoy will proceed to the state border at the check points "Donetsk" and "Matveyev Kurgan" for passing the necessary customs procedures in accordance with international legislation on the delivery of humanitarian goods.
Humanitarian assistance to residents of Donbass has been delivered since August 2014. During this period, 70 of EMERCOM convoys brought more than 71 thousand tons of humanitarian supplies to the territory of southeastern Ukraine.