According to the portal defense-blog.com, the Polish Defense Ministry purchased Warmate Micro Combat Unmanned Aircraft System kits from the WB Group 100 company. Warmate is positioned as an alternative to anti-tank guided missiles, allowing you to hit targets at a longer range, as well as to carry out loitering in search of a target for a long time.
Each of the Warmate kits contains 10 UAVs, as well as a set of warheads and reconnaissance modules of various types. The cost of the transaction is estimated at 100 million zlotys (about $ 20 million).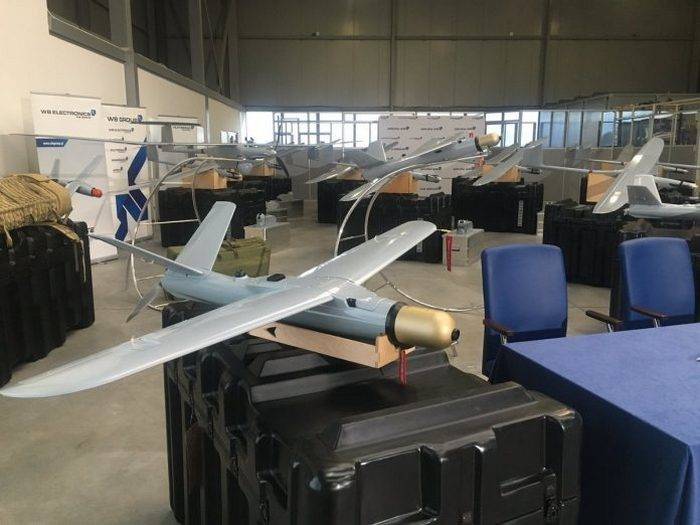 The company WB Group calls Warmate unmanned combat system. The drone can be controlled by the operator or fly the programmed route. Ammunition comes in a wearable or portable version. The design of the drone provides for the possibility of its installation on the vehicle, as well as the integration of the station management system and the data processing terminal with the platform equipment.
The wing span of the Warmate is 1,4 m, the length is 1,1 m, the target range is up to 12 km, the maximum flight duration is 50 min. The drone is equipped with an electric motor that accelerates it to a maximum speed of 80 km / h. The Warmate system is a multi-purpose and, depending on the installed head, can be used to collect information and reconnaissance (GS9 head with a video camera), attack enemy manpower (fragmentation warhead), conduct reconnaissance and destroy armored targets (cumulative combat head part). Starting drone by using a pneumatic installation. Management of ammunition is carried out by one operator
"Warspot"