More than 100 residents of the Czech capital and a number of well-known politicians took part yesterday in a rally dedicated to the 120 anniversary of the birth of Marshal Ivan Konev, reports
RIA News
.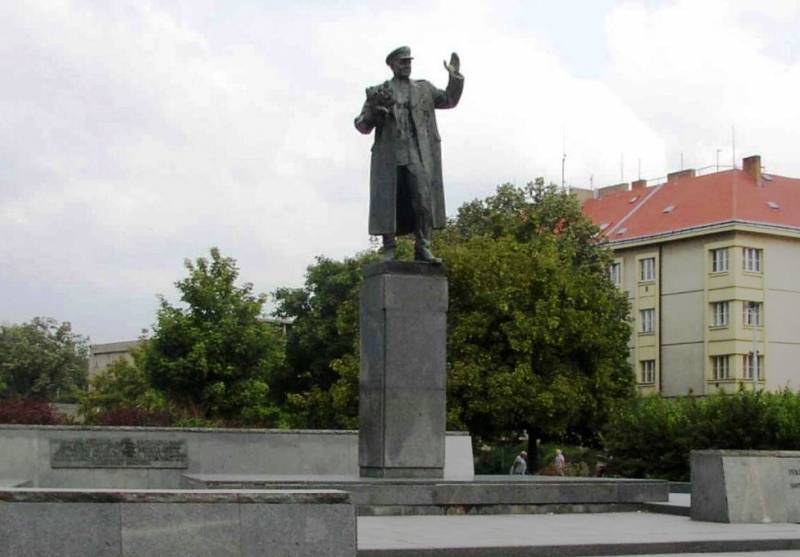 The protesters called on the authorities of the Prague-6 region not to spoil the marshal's monument with any additional inscriptions and honor the feat of the Red Army soldiers who liberated Czechoslovakia from fascism in 1945 year.
Earlier, city officials expressed the need to "correct" the inscription on it. According to them, there should be not only indicated his merits in the liberation of Prague from the Nazis, but also mentioned that "it was the Marshal-led troops brutally suppressed the uprising in Hungary in 1956,". The headman of Oldrich Kolarzh district in a recent letter to the Russian embassy stated that "in its present form, the monument does not correspond to the real situation and must be removed from the square of the Interbrigade, for example, to the territory of the embassy".
Such offers are genuine vandalism, the invasion of
history
, attempts to distort it in hindsight. They only show that, following a new-fashioned political course, some people in the Czech Republic tend to forget who freed them from the "brown plague", sow the seeds of misunderstanding and omissions in relations with the people of Russia,
Josef Scala, the first deputy head of the Communist Party of the Czech Republic and Moravia, told the agency.
In turn, the chairman of the Czech Union of Fighters for Freedom, Yaroslav Vodička, reminded the rally that "140 thousands of Red Army soldiers laid down their lives during the liberation of Czechoslovakia from the Nazis." He was supported by a number of famous politicians.
The granddaughters of marshal Konev, Elena and Anna, thanked the inhabitants of the Czech Republic for taking care of the numerous burial places of the Red Army men in the country, for the memory of their illustrious grandfather.
If only you knew how our grandfather loved Czechoslovakia, how proud that his troops helped her liberation from fascism! Ivan Stepanovich often came to Karlovy Vary for rest and treatment, and always sought to visit Prague, walk on foot through the beloved districts of this beautiful city that were familiar with May 1945,
said Elena Koneva.
The rally participants appealed to the administration of the Prague-6 district, in which they called for preventing a barbaric treatment of the monument, once again reminded of the USSR's role in defeating fascism and the contribution of military units headed by Konevym in the liberation of Prague.