Nuclear submarines cruisers of the North
fleet
(NF) from the composition of the Strategic Nuclear Forces (SNF) in 2017 mastered new naval areas, fleet commander Vice Admiral Nikolai Evmenov said.
Crews of submarine cruisers continued to develop new navigation areas, including under the ice of the Arctic Ocean
- said the commander on Tuesday at the extended meeting of the Military Council of the Northern Fleet in Severomorsk.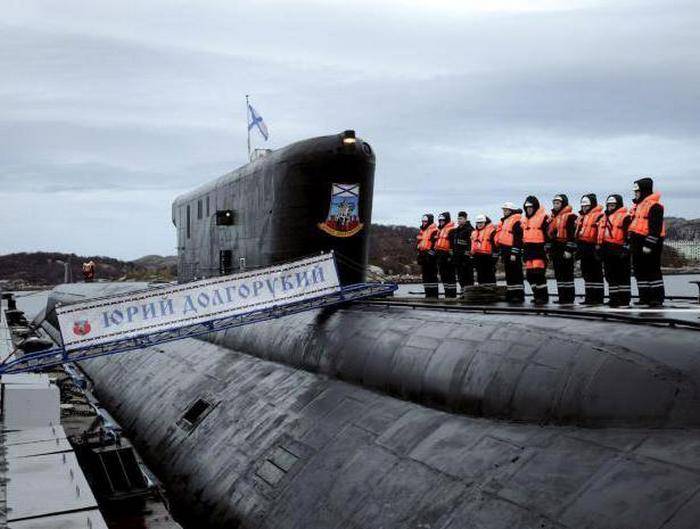 Summing up the training activities in 2017, I want to note that the Northern Fleet once again confirmed its readiness to solve tasks in the Arctic operational zone and other areas of the World Ocean
- leads the press service of the word Evmenova
The commander also recalled that "the crews of nuclear submarine cruisers SF" Yuri Dolgoruky "and" Bryansk "performed two firing of sea-based intercontinental ballistic missiles (ICBM).
Earlier it was reported that the 26 of June nuclear-powered submarine of strategic purpose (APXN) "Yuri Dolgoruky" of the 955 "Borey" project successfully carried out firing of the Bulava ICBM at a conventional target at the Kura range in Kamchatka.
On October 26, during a training session on the management of the Russian Strategic Nuclear Forces, the Sinev ICBM training and combat launch performed the Bryansk APNS of the 667 BDRM project.
According to open data, up to eight AKSNS 955, 667BDRM and 941U projects are currently in the naval strategic nuclear forces of the Northern Fleet. They can theoretically carry 132 ICBMs with separable warheads, Interfax-AVN transmits