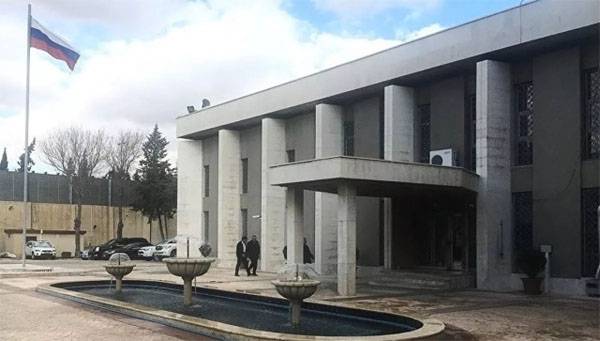 From Damascus, there are reports that the building of the Russian embassy was subjected to another shelling. According to the latest data, the building of the Russian Embassy in the capital of Syria was damaged as a result of mortar fire. It is noted that one of the walls of the building is damaged. According to the latest data, there are no injuries. Russian diplomats appealed to the UN Security Council with a proposal to assess the actions of the militants, under whose control there remain several quarters in the suburbs of Damascus.
Russian diplomats in Syria:
20 November around 10: 35 local time as a result of mortar shelling of Damascus, which was carried out from the standpoint of terrorists, one shell hit the external fence of the Russian Embassy in Syria, adjacent to its residential complex. As a result of breaking the 122-millimeter mine, the walls of the building, the power lines and the water supply system were damaged. We hope that our Western colleagues in the UN Security Council, who are so active in the Syrian sector, have enough spirit not to keep silent, but to give an appropriate public assessment of the incident, when the lives of Russian diplomats were threatened. Once again we want to confirm that such provocations will not affect the determination of the Russian Federation together with its partners to complete the destruction of the terrorist focus on the territory of the SAR, to promote the restoration of peace and security in Syria, and to strengthen its sovereignty, unity and territorial integrity.
This is not the first shelling of the Russian Embassy. Considering the tense situation, the staff of the diplomatic mission themselves created fortifications in the embassy inner courtyard, where you can take refuge in case of an attack on the diplomatic mission by representatives of terrorist groups.