The Chinese Intercontinental Ballistic Missile (ICBM) DF-41 (CSS-X-10 according to NATO classification) can enter service with the People's Liberation Army of China (PLA) in the first half of 2018. This was reported on Monday by the Global Times newspaper.
Technology missiles have progressed significantly. If it comes into service with the PLA soon, its official entry into the troops may occur in the first half of next year, said Xu Guangyu, senior adviser to the China Association for Arms Control and Disarmament.
- the newspaper writes.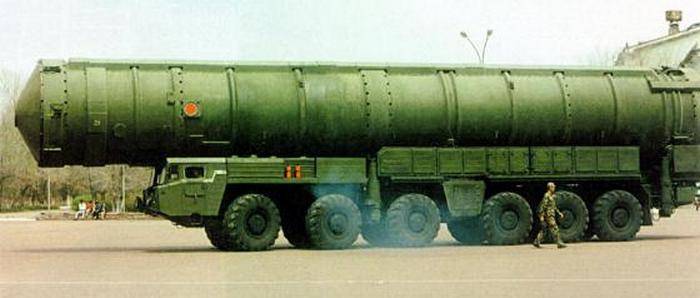 The DF-41 is a three-stage solid-fuel ICBM with a maximum range of at least 12 thousand km, which means that it is capable of hitting targets in any part of the world when launched from mainland China
- leads the publication of the word expert.
According to him, the DF-41 has a split head, which can include up to 10 self-targeting nuclear units. It is also equipped with false warheads and dipole reflectors to overcome the missile attack and missile defense warning systems. The rocket is capable of reaching maximum speed in 10 Mach.
According to the American Internet portal Washington Free Beacon, China conducted the seventh test of the DF-41 in the spring of 2016. Earlier, this portal reported that China in December 2015 launched this ICBM from a railway platform. According to the Hong Kong newspaper South China Morning Post, the last tests of this rocket took place in early November of this year in the Gobi Desert.
The three-stage solid-fuel MBR DF-41 was developed by the Chinese Academy of Rocket Technology. Supposedly, it is equipped with a split head, which includes from 10 to 12 nuclear blocks of individual guidance. According to various estimates, the maximum range of the DF-41 is about 14 thousand km, reports
TASS