Russian special forces received an experimental batch of Bear armored vehicles. They are able to move at high speed through the sand, swamps, mud and deep snow, according to
News
.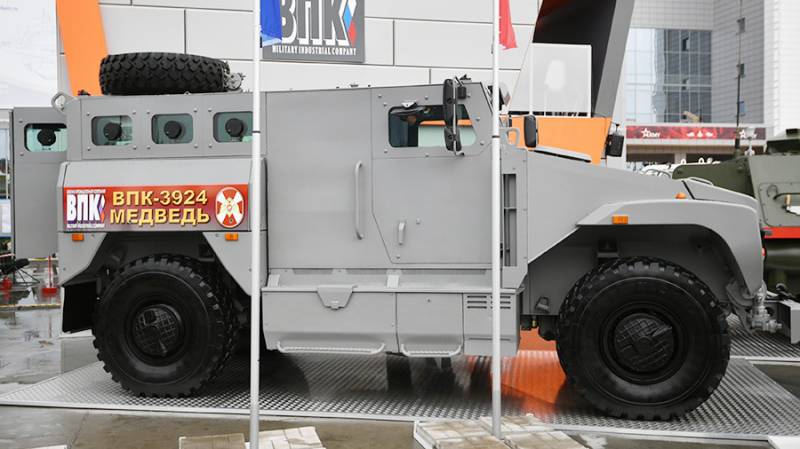 According to the experts, "the combination of enhanced protection with spaciousness and compactness makes the Bears very demanded machines, especially in counter-terrorist operations."
Machines are delivered to special forces units for testing. The program provides for sending them to Syria for testing in combat conditions.
"Bears" with the wheel formula 4х4 can not only transport personnel, but also provide fire support to the landing party. Their distinctive feature is the increased mine protection. The bottom of the car "has a V-shaped (in the Western classification, such machines are called MRAP).
It is noted that "depending on the tasks, installation of various types of weapons is possible - starting with machine guns of various calibers and automatic grenade launchers and ending with anti-tank missiles and automatic guns."
Oleg Zheltonozhko, an expert on land combat equipment, explained that the MRAPs were created to accompany the columns, and the war in Syria is now entering a phase in which the defense of the columns will be one of the most important tasks.
Unlike conventional armored personnel carriers, the Bears are able to move easily on public roads, while they are better protected than the more nimble Tigers. "Bear" can quickly move along the column, ensuring the transfer of reinforcements in the right place. At the same time it is more compact and will pass where the usual armored personnel carrier will be crowded,
he said.
According to the expert, thanks to the powerful armor and good mine protection, the Bears will also be in demand as command-staff or medical machines.
The military want to have at their disposal the entire line of combat vehicles - from light to heavy, and the "Bear" is a good combination of armor and roominess with relative compactness. In some situations, the armor and firepower of the BTR are simply redundant, and protecting the light Tigers is not enough. In addition, armored cars are cheaper to use,
added Zheltonozhko.
Initially, the "Bear" was created for internal troops, officially it is called "special police car VPK-3924".