The President of the Russian Federation will hold on Thursday a meeting on the development of the Far Eastern shipbuilding complex "Zvezda", reports
TASS
.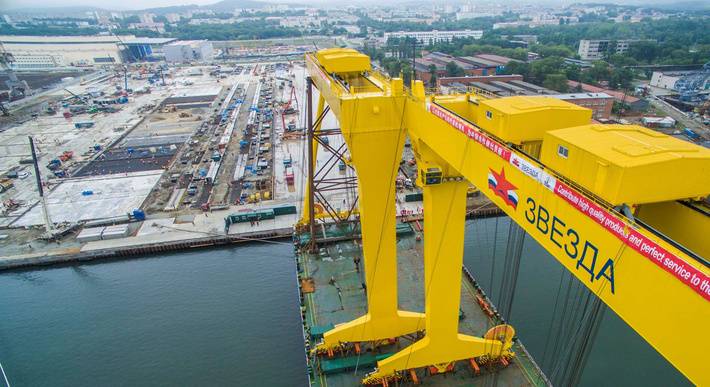 "During the meeting, it is planned to discuss a long-term plan for loading the enterprise before 2035 of the year," the Kremlin's release said.
Earlier, Deputy Prime Minister Dmitry Rogozin said that at the upcoming meeting, the president "is planning to consider, in particular, legislative approaches in order to ensure maximum load on Russian shipbuilding and give priority to Russian ships and platforms."
For their part, Russian shipbuilders declared their readiness to increase capacity utilization. As the head of the United Shipbuilding Corporation (USC), Alexei Rakhmanov, stated, all the modernization programs in the corporation are aimed at a multiple increase in labor productivity.
We do not think that production capacity, which is now loaded from the maximum possible by no more than 60%, will be once in short supply, said Rakhmanov.
After commissioning, the Zvezda shipbuilding complex in Bolshoy Kamen will be the first large-tonnage shipbuilding shipyard in Russia with a processing capacity of up to 330 thousand tons of steel per year. The shipyard will produce a whole line of medium- and large-tonnage vessels and marine equipment, including tankers, gas carriers, elements of drilling platforms, supply vessels and seismic prospecting. The head of Rosneft, Igor Sechin, has repeatedly stated the need to stimulate Russian oil and gas companies to place orders for Zvezda, but so far the shipyard has not been fully provided with orders, "the material says.
Rosneft itself ordered four multifunctional supply vessels of reinforced ice class and five Aframax type gas tankers at the shipyards. According to the agency, the volume of orders so far has been able to increase to 24 ships.
In addition, the head of Novatek, Leonid Mikhelson, said that the company had transferred through Sovcomflot all the necessary documentation from the shipyard Zvezda for the construction of 15 Arctic-class LNG tankers for Arctic LNG-2.
The agency adds that the production facilities of Zvezda make it possible to apply for a promising order of the largest icebreaker Leader. As previously reported the general director of "Stars" Sergey Tseluyko, the company began processing documents for obtaining a license for nuclear shipbuilding.