In the center of the Polish city of Szczecin, local utilities implement the "decision of the party and the government." We are talking about the dismantling of the monument dedicated to Soviet soldiers who liberated Poland from Nazism. This is a monument bearing the name "Monument to the gratitude of the Red Army".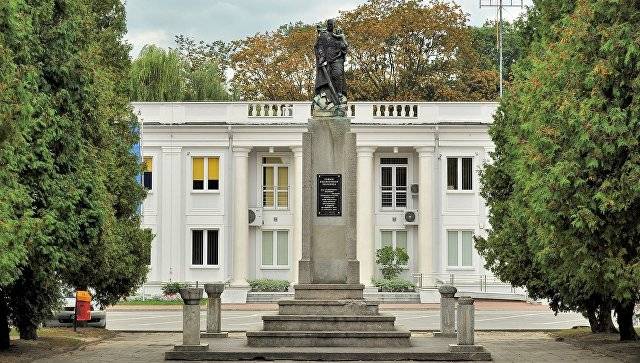 We will remind that earlier the Polish parliamentarians adopted a law, actually at the state level supporting the fight against its own Polish
history
. The law authorizes the dismantling of Soviet monuments on the territory of Poland, and in those voivodships of the country that were part of Poland thanks to the defeat of the Nazis by the Red Army.
Historically, the same Szczecin has nothing to do with Poland. Until 1945, the city was called Stettin and belonged to Germany.
The local council of Szczecin voted on the fate of the monument to the Red Army soldiers who laid down their heads during the liberation of Poland. For the dismantling of the monument voted 23 local deputies. Three members of the city council were against it. It is noted that the dismantling will be completed next week.
There is an opinion that representatives of the Szczecin City Council, who voted against the demolition of the monument to Soviet soldiers, could well be noted official Russian thanks. Although the obscurantism in the West is such that any gratitude that Russia renders to these courageous people will lead to the fact that they will be declared "agents of the Kremlin."
In any case, those Poles who oppose the struggle with their own history - thank you very much! - from the "Military Review".