A photo of the attack of the Su-22 fighter-bomber in the Duma area, which dropped a deadly cargo on the heads of terrorists, appeared in the network, reports
Messenger of Mordovia
.
Attack Su-22 continues to be one of the main aircraft of the Syrian Air Force.
Su-22 are an export version of the Su-17. These planes were called "Swifts" during the Soviet war in Afghanistan.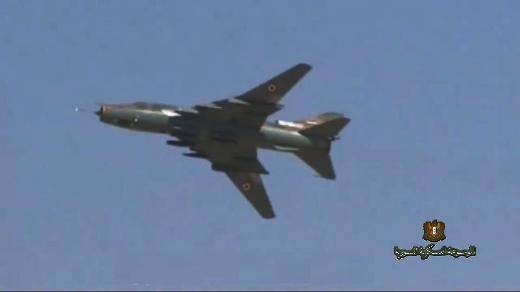 "These shock machines can be considered most affected by the actions of the Americans during this conflict. In the spring of 2017, several such planes were destroyed by cruise missiles at Shairat US airbase, "writes material author Lev Romanov.
In the summer of this year, the western "fighters against terrorism" on the F / A-18E fighter aircraft shot down another Su-22М4, he recalls. Fortunately, the pilot was successfully evacuated.
Nevertheless, "Swifts" continue to regularly make combat missions and destroy the main threat to their country - the terrorists, the author concludes.