In Poland, a scandal flared up over the past march of nationalist movements. It is noteworthy that Israel was the first to turn the attention of the Polish authorities to the march, urging them not to allow the glorification of the ideas of national intolerance. After this statement, the Polish opposition movements turned to the current government with similar demands.
The march of nationalist organizations called "Wishing God" took place under banners with the inscriptions "Europe for whites", "White European fraternity", etc. In addition, the actionists carried a poster that contained the words "Remember Vilnius".
The rally in the center of Warsaw gathered, according to police estimates, about 60 thousand people. Many came with lit torches and so-called flares, covering their faces with balaclava.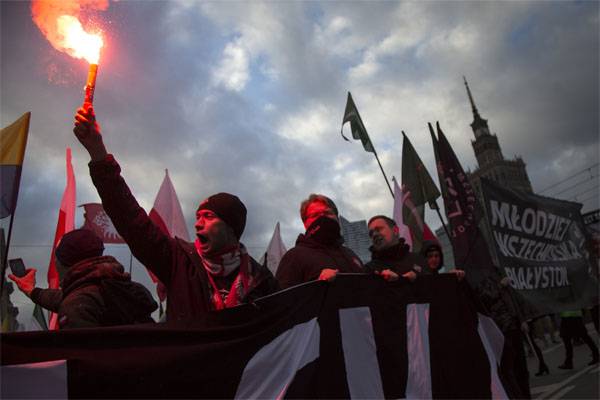 The opposition Polish movement Novocesna has spread the message that Poland, having survived the horrors of Nazism, is now itself sliding into Nazism and its support. In this "Novocesna" blamed the current authorities of the country.
Recall that earlier the Polish authorities turned to Ukraine with the demand to restore order and not to engage in ignoring the speeches of radicals on the streets of Ukrainian cities. In Warsaw, they noted that "in modern Europe there can be no place for manifestations of xenophobia and racism." Now, exactly the same requirements apply to Warsaw itself.