Serbia seeks to join the European Union, but will not join the anti-Russian course of Brussels and impose sanctions on Moscow. This was stated by First Deputy Prime Minister Serbian Foreign Minister Ivica Dacic in an interview with the Izvestia newspaper published on Monday.
Serbia wants the EU, but we will never go against our own national interests and never impose sanctions against friends
- he said. Dacic explained that "Serbia will remain consistent in its policy and will not join the European anti-Russian sanctions."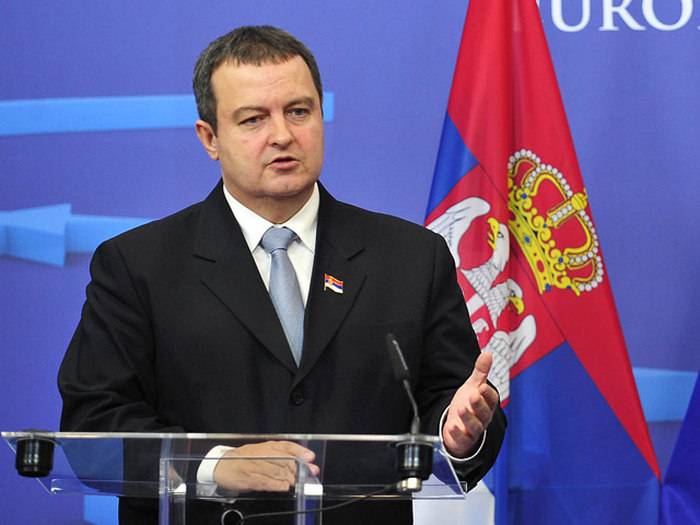 The head of the Serbian Foreign Ministry noted that pressure was being put on Belgrade so that he would join the EU course towards Russia.
How else to interpret the latest statements of the American diplomat Khoyt Yee during his recent visit to Belgrade?
- continued Dacic. -
What is this if not pressure?
Earlier, Deputy Assistant Secretary of State for European and Eurasian Affairs Hoyt Brian Yee, in a speech at the 17 Serbian Economic Forum, stated that Serbia should make a choice between Russia and the West, and not "sit on two chairs at once" if it wants to join the EU . As an example, the American diplomat cited Croatia and Montenegro - both are members of NATO, Croatia is also part of the European Union, and Montenegro has the status of a candidate country for membership.
The controversy surrounding Serbia's relations with Russia has intensified in recent weeks as a result of a number of statements by the Ambassador of Ukraine to Belgrade Alexander Alexandrovich, who accused Serbia of not pursuing an independent policy and is used by Moscow as a tool to destabilize the situation in the Balkans. Serbian Foreign Ministry threatened to expel the Ukrainian ambassador for anti-Serb and Russophobic statements, reports
TASS