Vietnam and the United States will continue to actively develop trade and economic ties and expand humanitarian cooperation, reports
TASS
statement by the President of the Socialist Republic of Vietnam (NRW) Tran Dai Quang.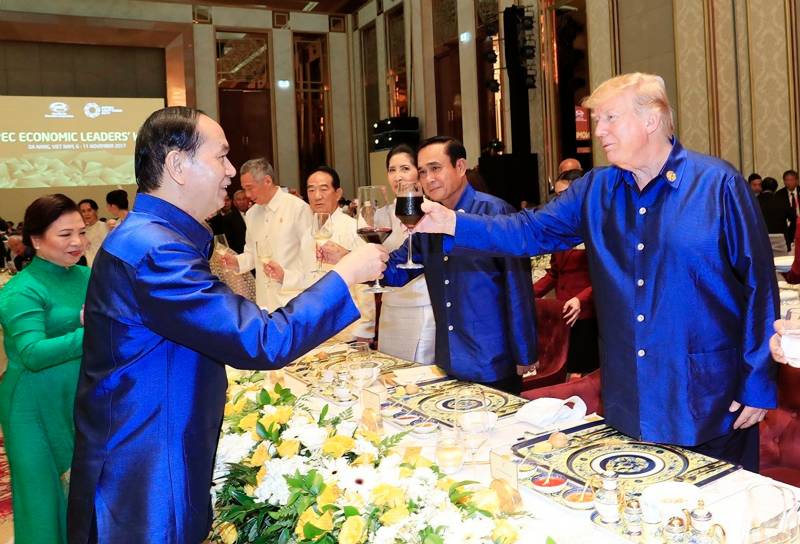 Viet Nam attaches great importance to strengthening and further promoting relations of comprehensive, stable and mutually beneficial cooperation with the United States, which contributes to the development of each country and contributes to the maintenance of peace, stability and development in the region and in the world,
Kuang said at a press conference following talks with Donald Trump on the margins of the APEC summit.
He noted that Hanoi is in favor of expanding cooperation with Washington in "areas of trade, economy and investment."
"Over the past decade, the United States has remained the largest export market for Vietnam, and the annual increase in bilateral trade is of the order of 20%. At the end of 2016, the Vietnamese-US trade exceeded $ 53 billion. The United States ranks eighth in the list of one hundred countries - the main investors in the Vietnamese economy. Currently, 815 US investment projects worth over $ 10 billion are being implemented on Vietnam's territory. Vietnam, in turn, has invested over $ 570 million in 150 projects in the United States, "the material says.
The Vietnamese leader also said that the countries agreed to intensify humanitarian cooperation, primarily in overcoming the consequences of the war. The United States "will continue to assist Vietnam in neutralizing unexploded wartime ammunition, as well as in neutralizing sources of chemical pollution" after the massive use of highly toxic chemicals by the US Army.
Donald Trump became the fourth American president to visit Vietnam since rebuilding in 1995 in war-torn diplomatic relations.