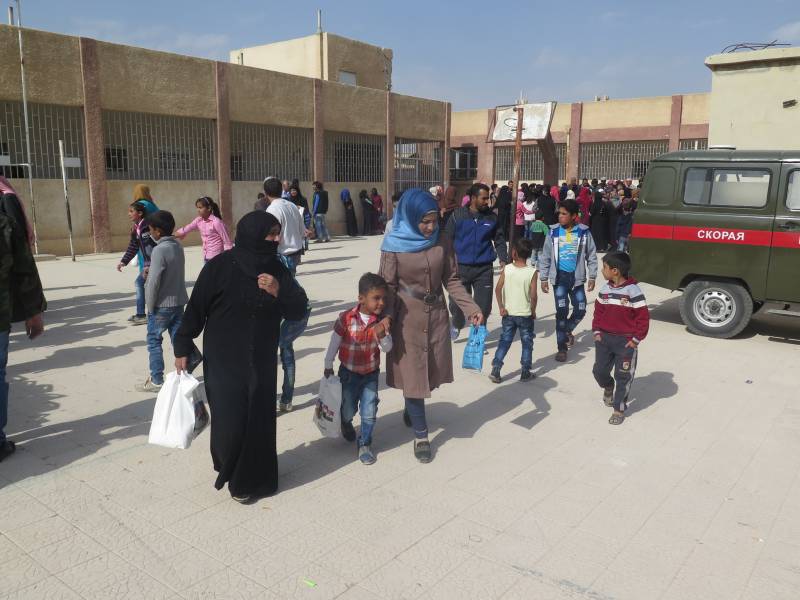 The Russian military from the Center for reconciliation of the warring parties brought gifts from Russian children to Syrian schoolchildren in the suburbs of Damascus.
The Russian military is going for the first time to an unusual humanitarian action. After all, this is not just the distribution of food kits, but the transfer of stationery gifts to schoolchildren from their Russian classmates. The path of the humanitarian convoy lies in the village of Muhayyam Al-Wafedin near East Guta - in fact, at the very entrance to the de-escalation zone, where the cessation of hostilities operates, although militants regularly conduct provocative attacks on the positions of government troops and residential districts of Damascus.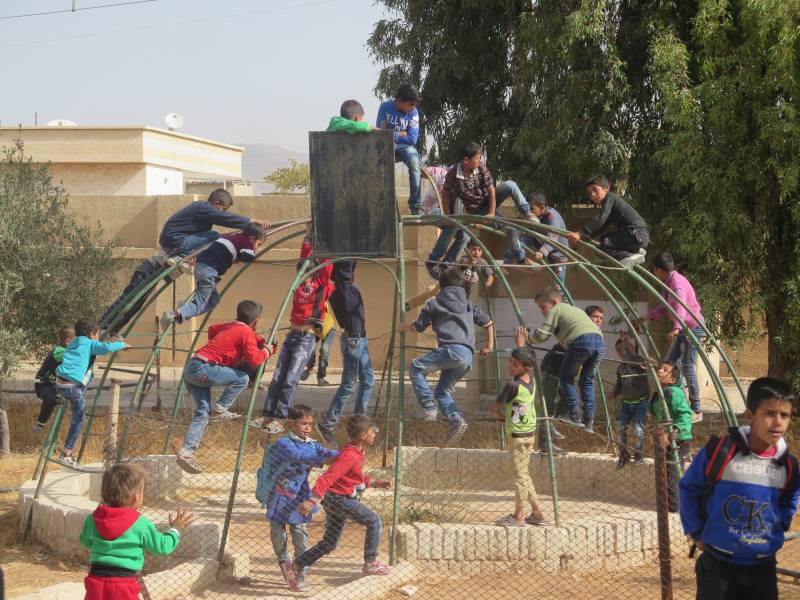 As the spokesman for the Center for the Reconciliation of the Parties, Colonel Alexander Sergeyev, stressed, the population of Eastern Guta is in a precarious situation, since the militants do not allow humanitarian supplies into Guta's territory, and if they manage to reach an agreement with them, then they simply appropriate all the products and essential goods .
"At present, we lack stationery: notebooks, pens, pencils, rulers. About 500 people study at school. We still have serious problems here in everything, but we are trying to solve them, "said the teacher Mais Kelyaf.
The appearance of the Russian convoy with humanitarian aid was a real event for the local residents of Mukhayyam Al-Vafedin - everyone ran out of the houses to look at the Russian military, but, naturally, the Syrian schoolchildren rejoiced most of all. Receiving treasured gift bags, everyone looked inside with interest.
"I am very glad that my Russian peers made such gifts for us. Now I have pens, colored pencils, felt-tip pens, notebooks and pencil case. I would also like to give something to the children in Moscow, "said the student of the Wafer Malik Mutassem.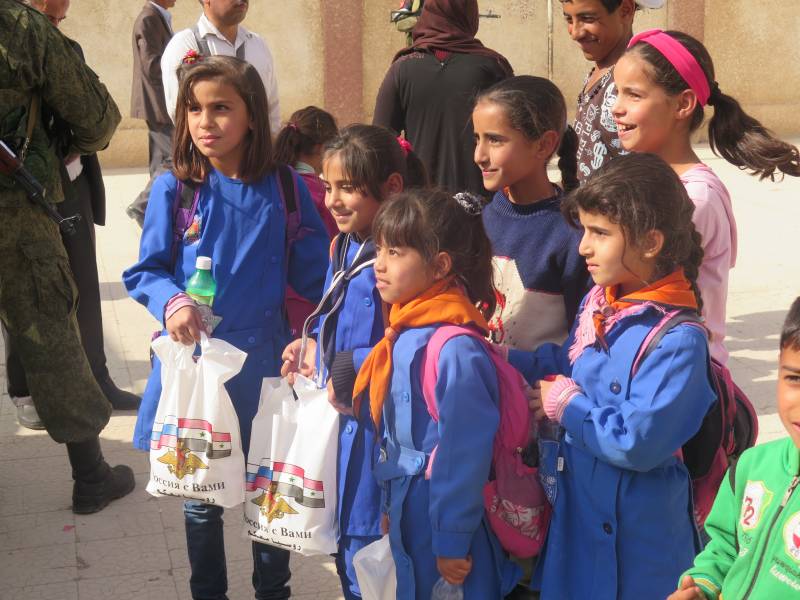 By the way, the leadership of the secondary school Muhayyam Al-Vafedina on behalf of the students came up with a reciprocal initiative - in response to such support and gifts, Syrian children want to send drawings for Russian schoolchildren.
Recall that the Russian military from the Center for the Reconciliation of the parties regularly held humanitarian actions in almost all parts of Syria, liberated by government troops from terrorists. And there is hope that this event will be continued by other Russian schools. Indeed, after the end of hostilities, it is difficult to single-handedly start the process of restoring a peaceful life. Moreover, the countries may be different, and the children on earth for all alone.