The Ukrainian authorities were clearly confused after the statement of the Vice-Consul of Poland in Lutsk (Volyn region, Ukraine) Marek Zapur. The Deputy Consul of the Consulate General of Poland in Volyn made a statement in which he indicated that Lviv is a Polish city, and also that Ukraine seized the Crimea and Donbass.
It is noteworthy that this kind of statement by a Polish diplomat was made during the conference "Volyn experiment by G. Yuzevsky: the road to
Polish-Ukrainian reconciliation
in the interwar period ", which took place in the museum of local lore of Rivne. Marek Zapur made a statement after one of the Ukrainian experts announced Poland's occupation of the territory of the so-called Ukrainian People's Republic of the UPR in 1919-1920.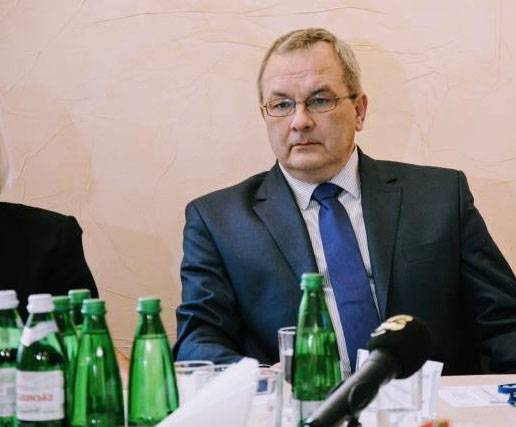 The situation is described on the Facebook page by the representative of the Rivne Museum, Igor Marchuk:
Provocative anti-Ukrainian statement of Vice-Consul Marek Zapur in Kiev.

Yesterday, on the basis of the Rivne Regional Museum of Local Lore, a round table discussion entitled "Volyn experiment G. Yuzevsky: the road to Polish-Ukrainian reconciliation in the interwar period" took place. A landing force from Lutsk headed by Vice-Consul Marek Zapur and Professor Mykola Kuchurea arrived at the round table and presented G. Yuzovsky's diaries published in Ukrainian. Ukrainian scientists at the round table clearly stated that the event was provocative and the birthdays of the Polish occupation official Henryk Yuzewski should not be celebrated, since Poland seized part of the territory of the UPR in 1919-1920. In fact, the Volyn Ekspert was sent for the approval of Polish power, Polonization and assimilation of local Ukrainians. In response, the vice-consul stood up and declared that the Ukrainian state did not exist at that time, Lviv is a Polish city and in modern times it can be argued that Ukraine occupied Crimea and Donbass in a similar way.
A few hours later, the Polish Vice-Consul himself commented on the situation. According to him, the Ukrainian side allowed itself anti-Polish biased statements to which it was difficult not to respond. According to Marek Zapur, Ukrainian historians said that during the years of the Commonwealth, the Poles occupied the Ukrainian Lviv.
Zapur:
To this I replied that at that time there was no concept of "Ukrainian Lviv," not to mention Ukraine itself.
This statement is actively discussed by representatives of the Ukrainian authorities. And the Polish president Andrzej Duda appealed to the president of Ukraine Poroshenko with the demand "to cleanse the Ukrainian government from radical nationalists."