The modernization of the MiG-29 fighters transferred by Russia as part of Serbia's military-technical cooperation was launched under the guidance of Russian specialists, the republic's Ministry of Defense reported.
The Serbian military department informs that the project of modernization of six MiG-29 transferred in October by Russia involves two stages, which according to the plan will be completed in 2018 year. At the same time, the Ministry of Defense clarifies that only one of the transferred fighters is currently undergoing overhaul in Russia, the other five are stationed at the military airfield Bataynitsa near Belgrade and are being modernized in Serbia.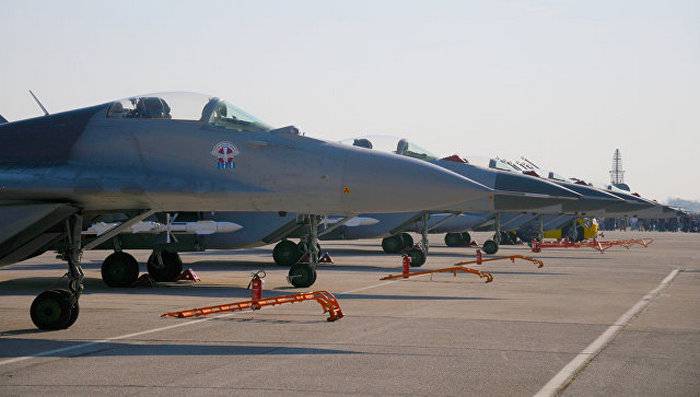 The first stage includes the installation of navigation equipment and equipment for communication on all six aircraft so that they meet international standards for communication with equipment on the ground, and the second stage of modernization implies a significant increase in airborne capabilities and firepower on all 10 machines (including existing Serbian Air Force has four MiG-29 - Ed.) at the highest technological level of modernization
- said the Ministry of Defense of Serbia.
The Office clarifies that the work on the modernization of the fighters began Russian specialists with four dozen of their Serbian colleagues based on the 204-th brigade of the Air Force of the Republic in the suburbs of Belgrade.
Fighters will be equipped with modern onboard electronics, air-to-air and air-to-ground weapons and electronic equipment for self-defense and electronic warfare.
- added to the military department
It is noted that the Serbian government allocated the necessary funds for the modernization of all 10 MiG-29 in the amount of 185 million euros. The Serbian Ministry of Defense also emphasizes that it has a sufficient number of pilots to control the upgraded fighters, which is facilitated by "joint exercises with pilots of the Russian Federation," reports
RIA News