A solemn march dedicated to our famous event
stories
- a parade on Red Square 7 November 1941 of the year, - was held today in Moscow. For about 45 minutes, about 5 thousands of people walked along the pavement, including servicemen of the Armed Forces of the Russian Federation, cavalry group of the presidential regiment of the Federal Security Service of the Russian Federation, cadets of the Suvorov schools and cadet corps. The march was completed by the musicians of the garrison military orchestra.
In the stands installed on the main square of the country, there were guests and officials. Official statistics provides data on 7 thousand people. Among the guests are representatives of veteran organizations, search clubs and associations.
Recall that November 7 in Russia is celebrated as the Day of Military Glory precisely in connection with the 1941 parade of the year. At that difficult time, the troops that had passed the parade march in front of Lenin's Mausoleum, went straight to the front - to fight the Nazis, who were already just a few dozen kilometers from the Soviet capital.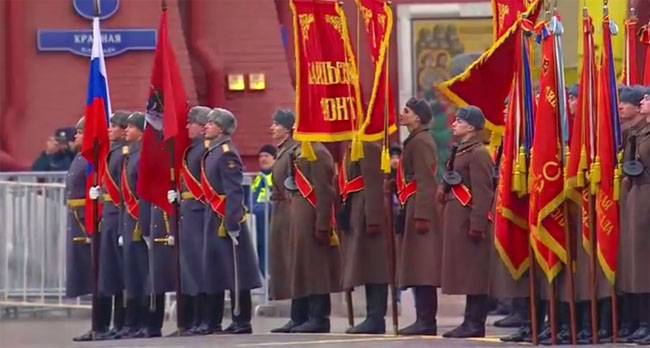 On the 76 anniversary of the parade on Red Square, groups of servicemen took the form of a sample of the Great Patriotic War and carried the banners of the victorious fronts. Favorite songs of the war years were performed.
Video parade posted to YouTube
Life
: