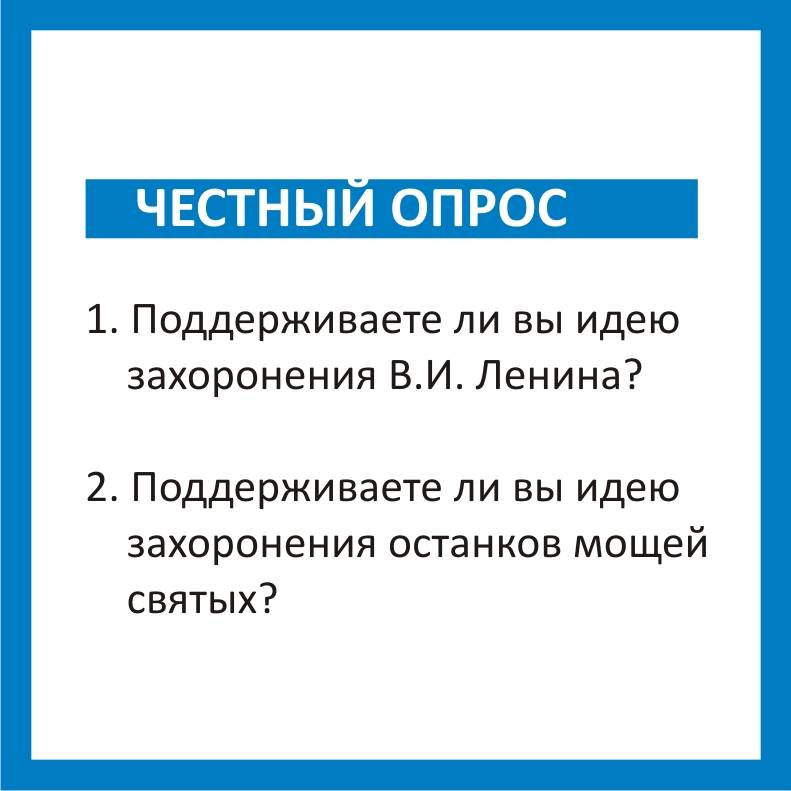 Many resources on the Internet conducted surveys about the burial of the body of Lenin. But I think that such a formulation of the question is not entirely fair ... I believe that it is in this wording that such questions should be carried out:
1. Do you support the idea
burial V.I. Lenin?

2. Do you support the idea
burial of the relics
saints?
Now I will explain why it would be more fair ...
First, you can immediately fend off, they say, is Lenin a saint? The answer is: they are all PEOPLE. According to all religious norms, idol worship, their images, etc. is not the norm. Here, in this matter, Muslims are best of all aware, therefore I will not dwell on it for a long time, the post is not about that.
Go ahead: I would like to philosophize on the topic of what measure and justice are. I just want to convince you of the fairness of such a question.
Clearly, "justice" is a concept
historical
depending on specific historical conditions. It has changed along with the development of human society, reflecting its attitude to something. And therefore, it is fair to say that at a certain stage, Lenin was "holy" to a huge mass of people. Do you think that these people are fewer? Good! But they are still there. If the question were: "Would you like to dig up Lenin to worship him?" - then I would consider such a proposal as some utter stupidity.
But! We have a given - the body in the mausoleum, which our ancestors put there. And you know yourself that "this is the ancestors, the people's will ...". And with this reality we live. Let us from the same position discuss the relics of the saints that the church puts on display. Is it bad or good? Let us take the same measure to this given: for believers, this is considered normal. And since this is the norm and is present in our life - why should we condemn people who consider it normal? Trying on one paradigm for all, it becomes obvious that both of these phenomena can exist in our life. And when an information attack on another is intentionally raised by one group in a society, this leads to a confrontation.
Example? No need to go far. Ramzan Kadyrov makes Gennady Zyuganov apologize. So before the fight close.
"The chatter about the reburial of Vladimir Lenin's body carries with it attempts to push generations together on Red Square and organize mass unrest," says Communist Party leader Gennady Zyuganov.
Kadyrov retorted: "You are talking about Caucasian traditions prescribing respect for the graves of ancestors. No religion of the world says that a dead person should be put on public display. And we respect the graves of our ancestors, unlike the Soviet authorities, who built roads from gravestones. "
The hot mountaineer has claims to the Soviet regime, but he lives in the same state with those who still regard this Soviet regime as the best authority. This is a question about the extent of understanding in management. I do not know how now Kadyrov will get out of it. Pride because it will not allow him to retreat from their demands in the apology.
Do you understand what I'm getting at? Either we take into account the interests of all, or everyone for himself, and farewell to the state. Therefore, questions concerning burial do not need to be raised as long as these symbols (and Lenin is a symbol) are at least dear to someone. The situation is similar with the relics of the saints.
Therefore, my answer to this survey will be:
1. NO / 2. NO