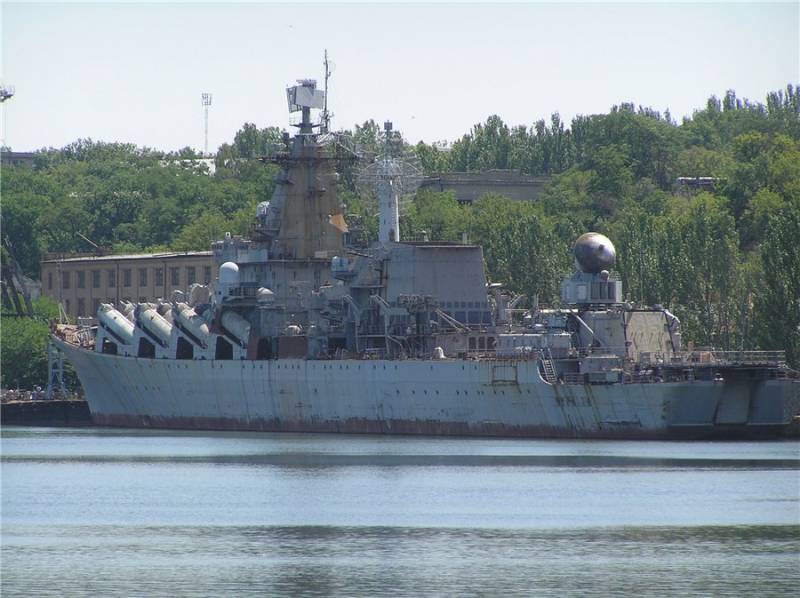 The state enterprise "Nikolaev Shipbuilding Plant" (part of the Ukroboronprom) stopped work due to the cessation of funding for the maintenance of the cruiser "Ukraine", the company's accounts were arrested, wage arrears - 58 million hryvnia (2,2 million dollars).
According to the press service of the enterprise, the work was stopped due to the lack of a decision of the Cabinet on the 1164 missile cruiser. The accounts of the company are arrested, wage arrears of more than 58 million hryvnia (about 2,2 million dollars). "These debts have accumulated due to the termination of the cost of the enterprise for the maintenance of the cruiser in February 2015 of the year," TASS reports the press service of the company.
It is noted that the shipyard for three years independently conducts work on the maintenance of the cruiser. Ukroboronprom sent to the government a project to resolve issues related to its demilitarization, according to which the company should be reimbursed part of the cost of maintaining the cruiser. This could pay off wage arrears.
"The lack of state support for a strategic shipbuilding enterprise in the country makes it impossible not only to get it out of crisis, but also threatens its functioning as a whole," the press service underlines.
October 30 Ukroboronprom addressed the Secretary of the National Security and Defense Council Alexander Turchinov, asking him to assist in deciding the fate of the enterprise.
The decree on the demilitarization of the cruiser "Ukraine", which has been idle for more than 33 for years at a shipbuilding plant, was signed by the president of the country, Petro Poroshenko, in March of this year. Poroshenko then suggested "to remove weapons and sell what remains." This, he believed, "is enough to compensate for wages."
After that, the situation at the plant has not changed.
The cruiser "Ukraine" was laid down in the summer of 1984 by order of the Navy of the USSR and launched on August 11, 1990, but on October 1, 1993 it was withdrawn from the Russian
fleet
and transferred to the ownership of Ukraine. There were no funds for completion in Ukraine.
Nicholas Shipyard was founded in the XVIII century for the construction of ships for the Black Sea Fleet. In Soviet times, gas turbine ships and refrigerated ships were built at the plant.
In Ukraine, several enterprises experience serious problems. So, the newspaper VIEW wrote about the difficult situation on Yuzhmash.