Trump is not governed by Putin at all, as Hillary Clinton assumed. She was wrong: the President of the USA is dictated from Tel Aviv. So says an analyst named Robert Perry.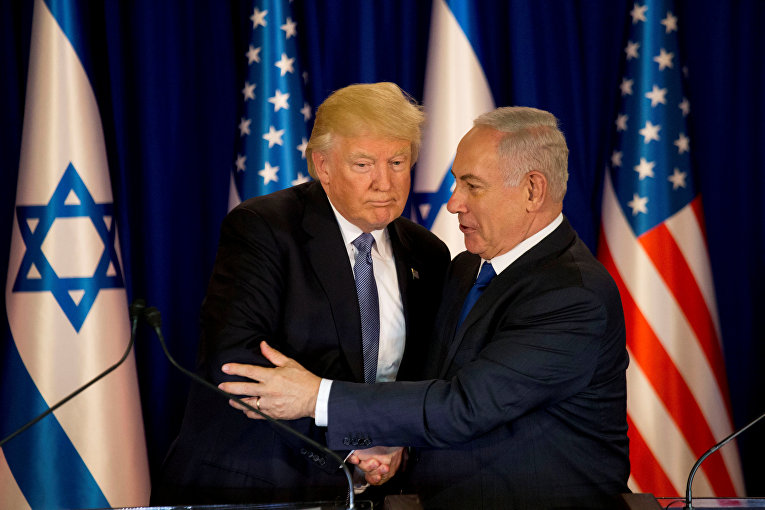 Journalist Robert Perry (Robert Parry) told the world about the "strings" for which Mr. Trump is pulling Mr. Netanyahu. This analyst told the site
Consortiumnews.com
.
It turns out, the author writes, Hillary Clinton was partly right: President Trump is indeed a "puppet"! But in some ways she was wrong: Trump is not a puppet at all of Russian President Putin, but of Israeli Prime Minister Netanyahu!
Perry finds Trump a puppet played by a "puppeteer typical of an American politician" - Israeli Prime Minister Benjamin Netanyahu.
How does a journalist explain his hypothesis?
On September 18, when "two men met in New York on the margins of the United Nations General Assembly," the analyst narrates, Netanyahu "pulls the strings" of Trump "on almost all foreign policy issues."
Perry probably suggests that the "puppet-puppeteer relationship" began much earlier. Some dark sources explained to Perry that Trump had long been under Netanyahu's cap, but happened to show "inclinations toward rebellion."
For example, Mr. Trump initially resisted the "Netanyahu demand" for deeper intervention by American forces in Syria. The "insurgency" should be recognized and the closure of the CIA operation to support anti-government rebels in Syria. This also includes the Trump administration's statement that US policy no longer requires a "regime change" in Damascus.
However, immediately after such a statement, Netanyahu achieved "certain success": he "made" Trump "go backwards". On the Syrian territory, Tomahawk missiles were launched (6 of April, the author recalls). Nevertheless, Trump has not yet completely revised his Syrian policy.
In May, Donald Trump chose Saudi Arabia and Israel as points of his first trip abroad as president. In fact, Perry believes, Trump followed the advice of his son-in-law Jared Kushner. Someone whispered in Perry's ear that Trump, however, felt "somewhat humiliated", especially after "dragging" him into the ceremonial sword dance in Saudi Arabia and a clear dependence on Netanyahu.
Then, throughout the summer, Trump "listened to the advice" (whose, not specified) about a possible "serious restructuring" of US foreign policy, which would test Israeli and Saudi regional ambitions, and also open diplomatic doors to Iran. The theme of appeasement of the "Korean crisis" was also raised.
The "proposed steps" were designed to reduce international tensions and save US government funds "on future military adventures and freeing American corporations from the confusion of economic sanctions." And that would be just the strategy "America - number one", which Trump promised his voters before the elections.
However, "instead," Netanyahu pulled the strings, assures the reading public R. Perry. The Israeli prime minister played with his doll at the September 18 meetings in New York.
However, the details "still remain a mystery, even for some people close to the events."
Whatever the exact reasons for all this, but 19 September, the author continues, Trump addressed the UN General Assembly with a speech about the war, calling North Korea's leader Kim Jong-un a "rocket scientist" and threatening to wipe his country off (i.e. 25 million people). Then, like a parrot repeating for Netanyahu, he called for another draft regime change - not in the DPRK, but in Iran.
Most of the diplomats in the room sat "in a stunning silence," says Perry, when Trump "from the rostrum of the organization threatened an aggressive war." But "one of the notable exceptions was Netanyahu": this man "applauded with enthusiasm", inconspicuously pulling the strings and moving Trump "to the neo-con camp".
And here's the result: instead of stopping the confrontational policy, Trump rejected the diplomatic strategy. But before that "he had already sent intermediaries to establish contacts with the Iranians and the North Koreans," says the author. Instead, Trump opted for the "classic neoconservative approach approved by Netanyahu."
In private, the analyst notes further, Trump explained that he simply liked the zigzags in politics, and the intended end point did not change.
Some oddity manifested itself in late September, when Secretary of State Rex Tillerson took an unusual step by announcing backroom contacts with North Korea (during a state visit to China). He reported on the "line of communication with Pyongyang." "We talk to them ... directly. We have our own channels, "the state secretary noted.
However, Trump and then showed "strings."
In the Twitter posts, Mr. Trump downplayed the very idea of ​​dialogue with North Korea, "chirped": "I told Rex Tillerson, our wonderful secretary of state, that he was wasting time negotiating with a little rocket man." He advised the Secretary of State to save energy. And "chirped" another threat of military strike against the DPRK, now veiled: "We will do what we must do!"
Trump's words about Tillerson might have been another unpredictable zigzag. But now it's clear, Perry writes, that the zigzag explanation was just the "next lie"! Instead of moving "zigzags", he "follows a straight line indicated by Netanyahu"!
In Syria, Netanyahu has already won quite a few "concessions from Trump." According to Russian officials, the US military continues to help the remnants of Islamist forces fight the Syrian government. In other words, Trump seems to be continuing US military intervention in Syria - "as Netanyahu wants."
In addition, Trump demonstrates a commitment to the Israeli line against Iran, claiming Iran as a terrorist state. In essence, Trump repeats Israeli clichés against Iran and burns diplomatic bridges, the analyst is sure. Trump's speeches are "so ridiculous," that he "almost defies serious analysis." He shares the "reckless rhetoric" of President George W. Bush.
But he is not the only one in the USA.
Just as dishonest as Trump, the US media behaves, Perry is convinced. They will not expose Trump to the harsh criticism that he deserves, and this is because "almost all eminent journalists and talking heads float along the course of Israel's anti-American propaganda campaign." They often repeated the mantra about "uranium of Iran", seeing in this state "the main sponsor of terrorism in the world". But this dubious "title" must be worn by the Saudis and Qatar, Perry admits.
As a result, Trump took the path of two wars - with North Korea and with Iran. None of these wars "are not approved by Russian President Putin," the author notes. Putin is also "in favor of an early end to the Syrian conflict."
But there is also hysteria against Russia: questions of "hacking" of e-mails of democrats in the United States, statements about suspicious subjects in social networks "connected with Russia" ...
The analyst's conclusion is simple: if Hillary Clinton were right in his statement about Trump as a "Putin puppet", Trump would have agreed to negotiations to resolve the North Korean crisis, and to constructive diplomacy towards Iran. Trump would also stop supporting militants in Syria.
Instead, Trump is moving in the opposite direction, building a "line with Netanyahu and the neo-cons", which other European allies call "the Israeli agents of America." Perry says: Trump is doing what most US politicians are doing: they "grovel before Bibi."
Perry's argument to this exciting point of view is one: if you "doubt this reality," look, "how often both Republicans and Democrats rise when Netanyahu speaks at a joint meeting of Congress." According to Perry, almost all 535 members of the US Congress "act like puppets." And this means that the US government is "subject to a foreign power." But not Russia at all!
* * *
So, the topic of the omnipresent Putin in the USA has finally begun to become obsolete. However, alternative media have never had and could not have a big impact on the minds of American society. The same applies to Consortiumnews.com. Robert Perry will not wait for the day when the people will throw Trump as an "agent Netanyahu", and the new team of the White House will announce sanctions to Israel.
Observed and commented on Oleg Chuvakin
- especially for topwar.ru