The US State Department Special Representative Kurt Volker, during his visit to Kiev, stated the need to find ways to resolve the conflict in Donbass and called "steps forward" in this matter to exercise security control at the border with Russia and along the line of contact, withdrawing heavy weapons and observing silence, the press reported -Service of the Verkhovna Rada following the meeting of Volcker with Speaker Andrei Parubiy.
According to K. Walker, the implementation of security control on the border with Russia and along the line of contact, the withdrawal of heavy weapons in storage and the observance of silence would be a step forward
- said the press service on the site of the Rada.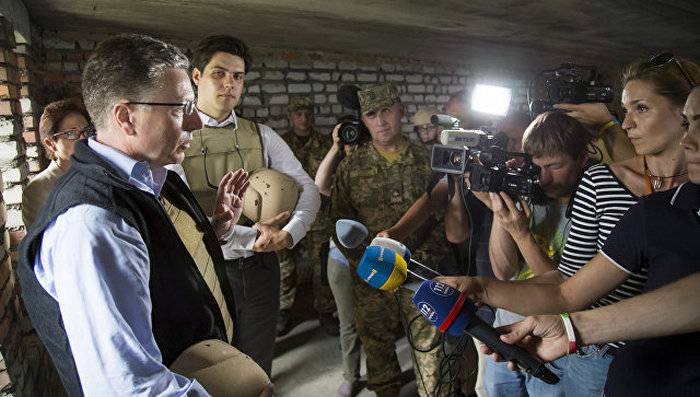 It is also reported that the meeting participants discussed a number of issues on the situation in the east of Ukraine, "the possibility and aspects of the use of the forces of the UN peacekeeping force and the implementation of the activities of the peacekeeping mission, issues of legislative support for reforms in Ukraine."
According to the deputy of the Verkhovna Rada, Mustafa Nayem, Kurt Volker said that he could not imagine that there should be Russians in the UN peacekeeping mission in the Donbas.
The Chairman of the Verkhovna Rada of Ukraine, Andrei Parubiy, at a meeting with the State Department Special Representative Kurt Walker, announced Kiev's plans to demand an expansion of sanctions on the Russian energy sector.
It is very important for us that the sanctions against Russia be preserved and expanded. We highly appreciate the package of measures that was recently introduced, and it is very important that it also affect the energy sector.
- declared Paruby
He added that Kiev, as well as, according to him, Eastern Europe opposes the construction of the Nord Stream - 2, and is preparing a letter to the European Parliament and the United States calling for suspension of participation in the construction of the gas pipeline.
Earlier this week, US Ambassador in Kiev Marie Yovanovic said that the commissioning of the second branch of the Nord Stream gas pipeline would reduce the transit of natural gas through Ukraine, with the result that the country could lose up to 3% of GDP.
In Kiev itself, it was previously estimated that Ukraine will lose more than 2 billion dollars due to the launch of Nord Stream - 2 every year.