Regional authorities of Catalonia, suspended from work by the Prime Minister of Spain, Mariano Rajoy, plan to try to continue the work, reports EFE news agency citing sources familiar with the situation.
According to their information, in the Catalan government do not intend to recognize themselves dismissed from power. Moreover, they plan to start implementing a number of steps as stipulated in the declaration of independence approved by the Catalan Parliament. In particular, the resigned leaders of Catalonia want to analyze the situation after the initiatives of Madrid to restore constitutional order in autonomy.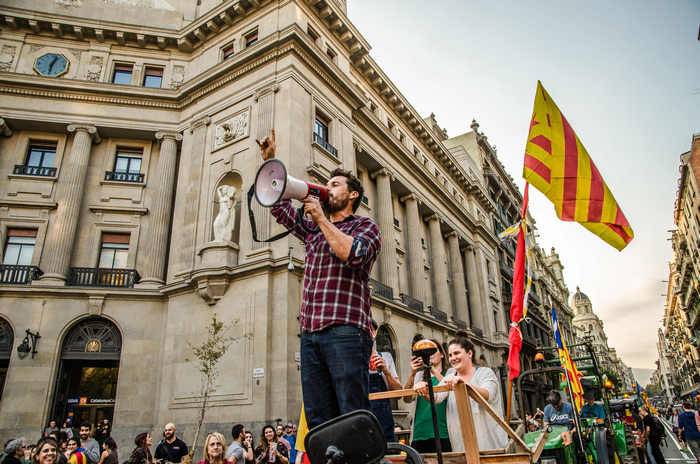 Shortly after this report, the head of the Catalan executive, Carles Puchdemon, said he did not recognize the order of Madrid to remove him from power.
In a democratic society, the function of choosing the government is the parliament (and not the Spanish Cabinet of Ministers - note)
- He explained during the televised address.
Pucdemon promised to continue the peaceful struggle for the independence of Catalonia. According to him, for this he is ready to use exclusively democratic mechanisms.
We do not believe in power solutions. We will continue to work on building a free country.
- he explained.
As reported, the Government of Spain has previously dismissed the regional government of Catalonia and dissolved the Catalan parliament, after which Madrid took control of this autonomous community.
Today, the Spanish authorities have published an order from Prime Minister Rajoy, according to which Deputy Prime Minister Soraya Saenz de Santamaría takes control of Catalonia. The order confirms the removal from power of the government of the autonomy, the majority of whose functions will be assumed by de Santamaría.
The government also announced that the Spanish Interior Minister Juan Ignacio Soido is now leading the forces of the Catalan police, reports
"Interfax"
.