Representative of the Council of Federation of the Federal Assembly of the Russian Federation Konstantin Kosachev commented on the publication in the American press about the fact that the United States is going to impose sanctions against virtually all Russian companies from the defense industry. Recall that in the new sanctions list prepared by the US State Department, such Russian companies and corporations as MiG, Sukhoi, UAC, UEC, MIC and a number of others.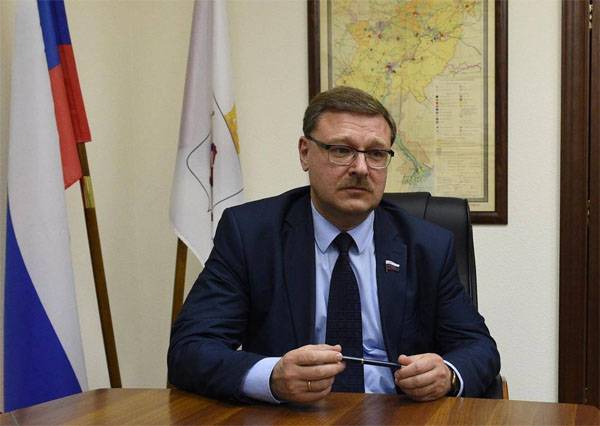 On his Facebook page, Konstantin Kosachev writes that the imposition of sanctions against Russia's defense industry sector will allow him to add on the pace of development, as has happened with other sectors in respect of which the West has imposed sanctions.
From the statement by the chairman of the international affairs committee of the Upper House of Parliament:
The appearance in the media of the Trump administration's sanctions list of Russian individuals and legal entities is of interest, probably, only in terms of the date - the list appeared later than the expected date. What, in fact, opposition congressmen from 20, who noted in an open letter to the president on Thursday, already noticed that the summer law on countering America's opponents with sanctions actually ordered the administration to submit such a list to October 1. And once, they say, this was not done, then "it reinforces the fears about the relations of your election headquarters and administration with Russia" (not for the sake of such a clear phrase and this letter was written?) ...

The list is a banal enumeration of all the most obvious Russian structures related to intelligence and defense, from the SVR to the Kalashnikov concern, and looks more like a formal reply that did not require a long understanding: "wanted? —Get!"

This is unlikely to affect the situation in the sphere of relations with Russia - most of these structures and their leaders are already under sanctions, and relations are already "worse than ever". Rather, all these acts are merely indicators of the state of mind in the political leadership of the United States, which are still at dusk.

And the practical consequences, if they will (alas, some will be exactly) somehow make the Russian defense industry even more competitive and stronger (the conditions are now definitely not greenhouses). For that special thanks to overseas "comrades" acting with the Bolshevik conviction that the world "color revolution" is inevitable.
Against this background, it became known that Russia has expanded the food embargo. Importation of by-products and live pigs from the EU, the USA, Canada, Australia and some other countries falls under the complete ban.