According to armyrecognition.com, the Indian Defense Research and Development Organization (DRDO, Defense Research and Development) announced the completion of improvements to the new version
tank
Arjun.
The Arjun Mark II tank was introduced by the DRDO organization in 2011, and is a deeply modernized version of the Arjun Mark I tank, which India took 37 years to develop. Despite a number of innovative solutions used in the Arjun Mark II tank, the Indian Defense Ministry earlier refused to order the high-volume assembly of this machine.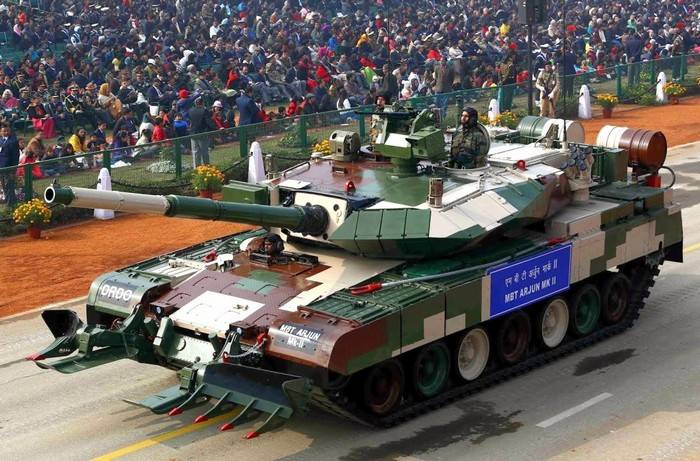 Arjun Mark II 2015 photo of the year
Military officials counted 93 flaws, the most significant of which was the "extra weight" of the tank. The mass in almost 68 t makes the Arjun Mark II one of the heaviest in the world (while the machine's armor is relatively weak) and limits the possibilities of air transportation. In addition, rivers or marshland are almost an insurmountable obstacle for the Arjun Mark II: most of the bridges in India simply will not sustain such a massive machine. It was originally planned that the Ministry of Defense would purchase up to 2000 new tanks, but the order was limited to 124 units (according to other sources, the state order amounted to 118 units). In addition to a large mass, the Arjun Mark II tank has another drawback - its price is one and a half times higher than the Russian T-90, which the Indian Defense Ministry chose as the main battle tank.
Yesterday it became known that the DRDO presented to the Ministry of Defense of India an updated version of the Arjun Mark II, which corrected the shortcomings indicated by the military. Now the Indian tank can shoot LAHAT anti-tank missile, is equipped with a set of laser protection and has improved armor. If the prototype likes the army, the DRDO will receive an order for an experimental batch of new tanks (93 units).
modified Arjun Mark II

Today, the Indian army is armed with 3700 tanks, most of which are Soviet and Russian T-72 and T-90. In the next ten years, the T-72 tanks will exhaust their resources and should be written off. If the new version of the domestic tank also does not satisfy the military, India will have to again look for a supplier of armored vehicles, reports
"Warspot"
.