A pardoned representative of the extremist group "Majlis of the Crimean Tatar People" (* banned in the Russian Federation) Ilmi Umerov made a statement about his plans for the future. Recall that Umerov, sentenced by a Russian court to 2 years of the colony for appeals to violate the territorial integrity of Russia, was released from custody the day before and sent to Turkey. They were sent along with another Mejlis man, Akhtem Chiygoz, who had a 8-year sentence for organizing mass riots.
During the briefing held by Umerov and Chiygoz in Ankara, the first one stated that he "did not ask the Russian authorities for pardon" and that he "plans to return to Crimea again."
From Umerov's statement:
I made no promises, no guarantees that I would not make this attempt (to be in the Crimea). After a while I will definitely try to return to the Crimea.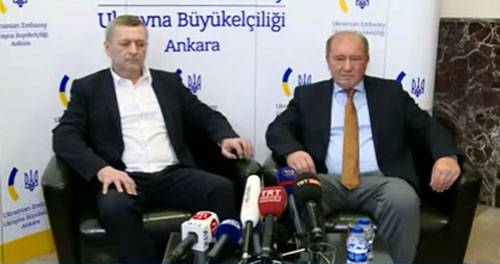 The deputy of the Verkhovna Rada of Ukraine, leading an extremist "Majlis" (*), Refat Chubarov, previously stated that Ahtem Chiygoz and Ilmi Umerov had allegedly been banned from living in the Crimea.
If Umerov and Chiygoz again find themselves in the Crimea and continue anti-Russian activities there, it is unlikely that this will lead to their repeated pardon.
According to Umerov, initially he (and Chiygoz) will arrive in Kiev, where they will meet with colleagues in the Majlis (*).