The number of applicants for construction for the Indian Navy of six submarines with an air-independent power plant under the "Project-75 (I)" program was reduced to four. According to Jane's Defense Weekly, the Japanese consortium Mitsubishi Heavy Industries / Kawasaki Heavy Industries and the Spanish company Navantia did not respond to the request for information sent by 19 on July 2017 of October to the deadline set for October 16.
However, four other manufacturers, including the French Naval Group (formerly DCNS), the German ThyssenKrupp Marine Systems, the Swedish Saab Kockums and the TsDB MT Rubin (through Rosoboronexport), presented their responses to the request.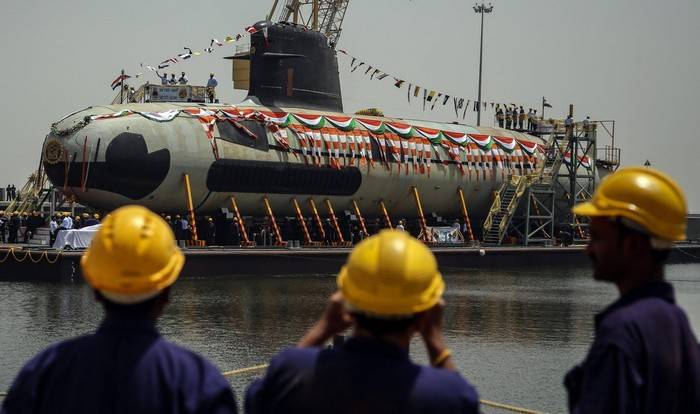 Within the framework of the "Project-75 (I)" program, whose cost is estimated at 500 billion rupees (7,81 billion dollars), it is planned to build six submarines with an air-independent power plant capable of hitting ground targets at the shipyards of one of the Indian private companies. .
According to plans, over the next few months, the Department of Defense and the Indian Navy command will evaluate the responses received, primarily in terms of technology transfer opportunities to Indian companies. At the same time, requests for information will be sent to selected national manufacturing companies in order to assess their technical, financial and production capabilities.
After the formation of a joint venture with one of the foreign developers, Indian companies will present their proposals to the Indian Defense Ministry. According to the results of the evaluation of the conditions, cost and delivery time, as well as the accompanying offset program, the winner of the competition will be selected. Testing NNS is not planned.
Currently, the Indian Navy has 13 submarines in its arsenal, although the "Perspective Development Plan"
fleet
»Provided to have 24, passes
TSAMTO