The United States Army's telemedicine and advanced technology research center in Maryland will soon begin exploring the conditions in which a wounded fighter will be in when evacuated from the battlefield using an unmanned aerial vehicle. According to Aviation Week, this will be used helicopter-type drone Dragonfly Pictures DP-14 Hawk, developed specifically for the delivery of ammunition and transportation of the wounded. Military experts intend to assess whether the drone is suitable for medical evacuation.
As part of the study, US military experts intend to place several types of sensors in the transport compartment of the UAV DP-14, which will measure the intensity and frequency of vibration, noise level, temperature, atmospheric pressure, acceleration and maneuvering parameters of the aircraft. The same sensors will be installed on a UH-60M Black Hawk manned multipurpose helicopter (such vehicles are used by the US Army for medical evacuation).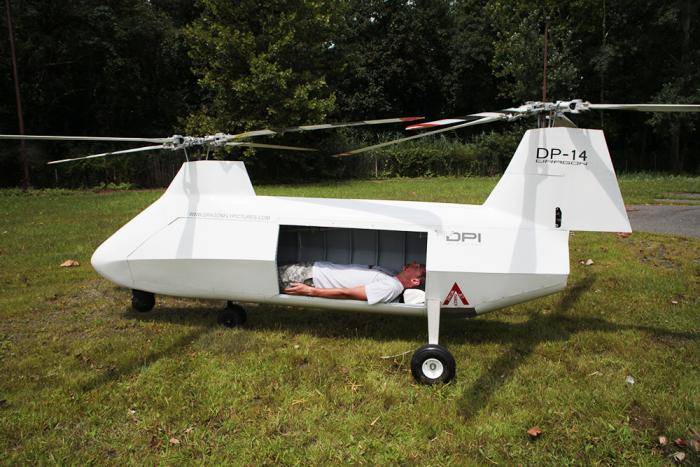 After all the measurements, the researchers compare the data from the sensors installed on the helicopter with the data obtained from the sensors on the drone. Based on this, conclusions will be drawn about the suitability of the drone to transport the wounded. If the conditions in the transport compartment of the DP-14 are deemed unacceptable for the transport of wounded soldiers, the developer may be given the task to refine the unmanned vehicle. When it is planned to begin testing, not specified.
The DP-14 unmanned helicopter is built in a longitudinal pattern with two rotors. In the same way, for example, the American heavy transport helicopter CH-47 Chinook was designed. The mass of DP-14 is 408 kilograms. The device, equipped with a turboshaft engine, can carry loads weighing up to 195 kilograms. The duration of its flight is 2,4 hours. The volume of the transport compartment of the DP-14 is 0,7 cubic meters; It can fit one person.
Dragonfly Pictures DP-14 is capable of speeds up to 105 nodes (about 195 kilometers per hour and fly at altitudes up to 4,6 thousands of meters. The device is expected to be able to fly fully offline.