The US Navy will soon be replenished with a new giant ship. According to the portal navaltoday.com, General Dynamics NASSCO and the Navy Command held the baptism ceremony of the USNS Hershel "Woody" Williams (ESB 4) ship-forwarding naval base. The ceremony took place in the port of San Diego (California).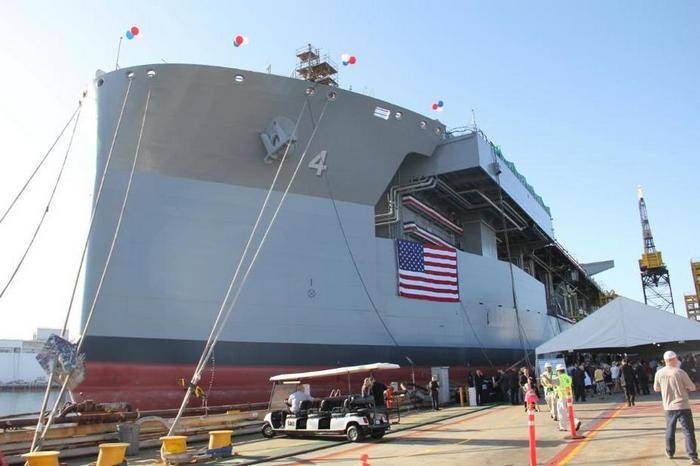 USNS Hershel "Woody" Williams (ESB 4) in the port of San Diego.
USNS Hershel "Woody" Williams is the second expeditionary ship in the US Navy. The first - USS Lewis B. Puller (ESB-3) - was removed from the subsidiary
fleet
and included in the US Navy in August this year. In addition, General Dynamics NASSCO is building a third giant ship and has signed a contract with the US Department of Defense for the construction of another ship of this class. At the same time, the military department plans to order several more expeditionary naval base ships.
Initially, the expeditionary naval base was planned to be used as an auxiliary fleet. Later, in order to expand the possibilities of using these ships, the command decided to introduce them into the combat fleet. "Military missions, such as mine action and special operations, must be conducted by a warship in accordance with the law of armed conflict," said Seth Clark, press secretary of the US Navy.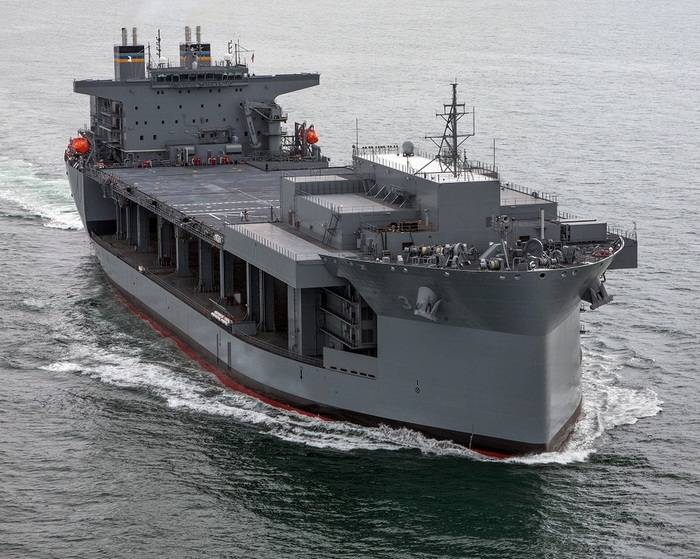 Expedition Marine Base Lewis B. Puller, later became a warship.
USS Lewis B. Puller and USNS Hershel "Woody" Williams (ESB 4) are the largest non-nuclear ships in the US Navy. The total displacement of each forwarding naval base is 78 000 t, in this parameter they lose only to nuclear aircraft carriers of the Nimitz and Gerald R. Ford types, whose displacement is about 100 000 t. The length of Hershel "Woody" Williams reaches 233 m, the maximum width is 50 m The ship is equipped with a flight deck, which can accommodate four heavy helicopters CH-53, and is able to take on board four anti-mine unmanned boats Mk 105. In addition, the ship is a helicopter hangar, warehouses for storage of ammunition, fuel, equipment, consumables and components, reports
"Warspot"