Not so long ago on our site went
supply material
new shoes for ukrainian soldiers. Mainly, it was a question of new shoes for officers of the armed forces of Ukraine. And so, Ukrainian journalists publish information that the money was stolen on these shipments to the Ukrainian Armed Forces.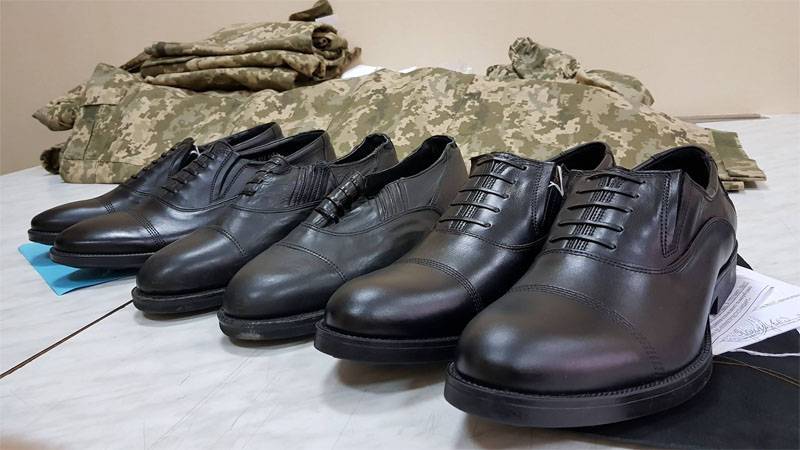 According to the Ukrainian journalist Alexander Dubinsky, a fraudulent scheme has been revealed for the withdrawal of funds intended for the purchase of new shoes for military personnel. The submission states that the representatives of the top of the main military department of Ukraine and the staff of the National Bank are involved in the creation of the criminal scheme.
The submission states that since 2015, all tenders for the supply of shoes for military personnel of the Ukrainian Armed Forces have been won by only one company. This is "Talanlegprom." The total number of tenders won by her is already 28. At the same time, this company supplied shoes to the Ministry of Defense at a price of 20-25% more than that offered by other companies that took part in the tender, but who did not win it for some reason.
The reason for the "success" of the company "Talanlegprom" is related to the fact that it was created under it TU for military shoes. Moreover, according to Dubinsky, the TU was prescribed by a certain K. Lesnik, who was in the Defense Ministry through the patronage of Poroshenko's adviser Yuri Biryukov. And the real owner of the company is the structures controlled by the deputy of the VRU from the Bloc of Petro Poroshenko, Nikolai Lavrik, who managed to "change the shoes" from a member of the "Party of Regions" into fighters for the ideas of the Maidan.
The Ukrainian journalist says that after Poroshenko's statement about the need to cut off the hands of all those who steal from the army, the president himself should no longer have any of the upper limbs ... The material of the Ukrainian journalist is called
"Peter in the boots"
.
Additional link to documents
.