Philippine Minister of Defense Dolphin Lorenzana today announced the completion of the operation to free the city of Maravi from the terrorists of a group affiliated with ISIS (* banned in the Russian Federation). This grouping is called Abu Sayyaf (*). The terrorists declared the city of Maravi on the island of Mindanao its territory in May of this year. Since then, during the liberation of the city, according to official data, about 200 soldiers and police officers were killed.
According to the Minister of Defense of the Philippines, a total of over 900 terrorists were destroyed in the city. There were no civilian casualties. In the main defense department of the country speak about 50 dead. Earlier sounded much larger numbers.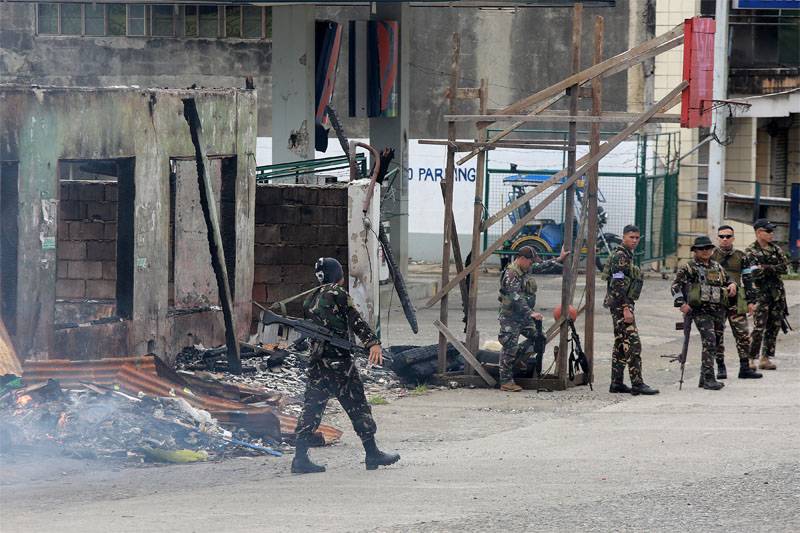 The operation went into the final stripping phase a little over a week ago. All the leaders of the terrorist group destroyed by the army units of the Philippines. The names of neutralized leaders are called. In addition to Isnilon Hapilon and Omar Mauta, who had passports of Filipino citizens, Malaysian Mahmoud Ahmadi was eliminated.
Now official Manila announces the beginning of a major campaign in the restoration of the destroyed neighborhoods of the city and the return of refugees to their homes. In total, Maravi and the surrounding area have abandoned thousands of civilians since 400 since the end of this spring.