The Ministry of Defense of the Russian Federation plans to purchase medium military transport aircraft IL-276, which can transport several combat vehicles or up to a hundred military personnel over a distance of 5-6 thousands of kilometers. At the same time, the car will be able to do without runways - it sits down easily and takes off from the usual ground, according to
News
.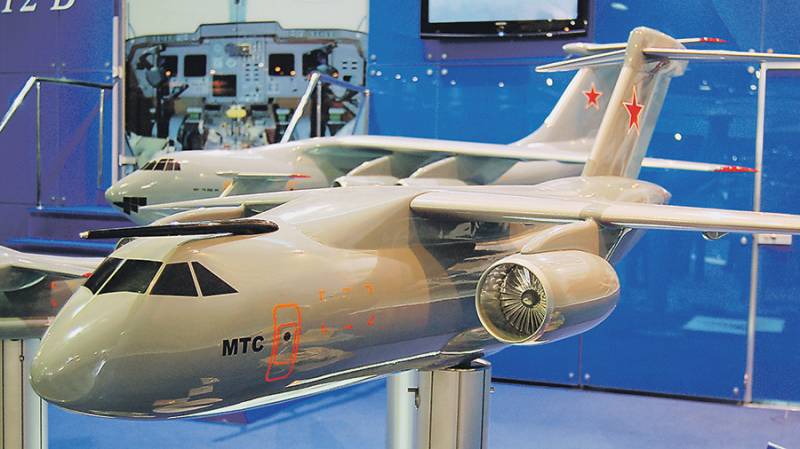 The aircraft is created on the basis of the unimplemented joint Russian-Indian project MTA (Multi-role Transport Aircraft).
Currently, the military are negotiating with aircraft manufacturers. In particular, the timing and the creation of the IL-276 are discussed. It is already certain that the need of the Ministry of Defense is no less than 55 machines.
In JSC "Ilyushin" confirmed this information.
"An intergovernmental agreement on the joint development and construction of an MTA aircraft was signed by Moscow and New Delhi in 2007. After 3, the base agreement was concluded by the Russian KLA and the Indian Hindustan Aeronautics Limited. It was expected that the first flight of the aircraft will perform in the 2017 year. Subsequently, the dates were shifted several times. And at the end of 2015, the Indian side announced its withdrawal from the project, "reminds the newspaper.
In 2016, it became known that the MTA project, called IL-276 (previously Russian media project MTA-SVTS was called IL-214), will be continued by the Ilyushin company.
IL-276 is a twin-engine jet aircraft with a take-off weight of just over 60 tons. Its payload is around 20 tons. The machine is capable of flying at over 800 km / h. 6 thousand.
In the future, it will replace all those transport vehicles that have not been produced since the times of the USSR - An-12, An-72, An-32. On this plane will put the engines from the upgraded IL-76. They are well mastered by industry. This will greatly accelerate the process of fine-tuning the aircraft and putting it into service,
told military expert Anton Lavrov.
He added that "an average transport aircraft is very necessary for transportation over such distances, where it is inappropriate to drive a large IL-76."
In IL-276 and run, and fuel consumption will be significantly less. It is useful for the transfer of light equipment and people. Transportation of supplies to remote garrisons, especially in the Arctic, is very popular. Also, based on it, the EW and electronic reconnaissance aircraft will most likely be created. And if you wish, you can make a flying laboratory and even a passenger plane for the transportation of command,
said Lavrov.