American experts have listed the most powerful, in their opinion, Russian robotic systems. Reports about it
Lenta.ru report
with reference to Breaking Defense.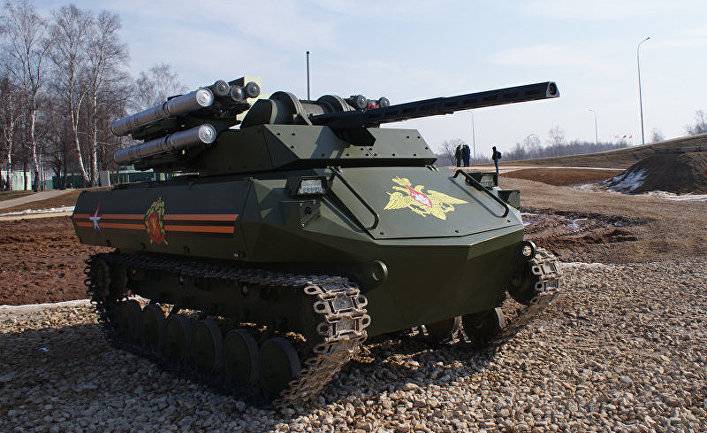 Russia is creating a whole zoo of armed ground robots up to the size of armored personnel carriers,
said the technology director at the New American Security Center, Paul Sharr. He noted the Russian 11-ton "Uran-9", 16-ton "Whirlwind" and 50-ton T-14 (unmanned "Armata").
Many of these heavy vehicles are heavily armed, and Russians often demonstrate these prototypes at trade shows,
said another expert, Samuel Bendet of CNA (Center for Naval Analyses).
Meanwhile, in their opinion, "many of the Russian robots are more like advertising tricks than practical combat vehicles," in particular, the anthropomorphic FEDOR (Final Experimental Demonstration Object Research) robot, which is capable of firing a pistol.
Most of the products, the newspaper notes, are "converted for remote control of conventional armored vehicles," and "they cannot be considered truly autonomous products, since managing them requires the presence of a person, although outside the car".
In the automatic turret, created in Russia, according to Sharr, there are "problems with distinguishing between friend and foe in autonomous mode of operation", but artificial intelligence systems developed in the country, he is sure, will cope with this task over time.
Bendet, in turn, noted that most of the US military ground UAVs are remotely controlled (this simplifies the enemy's radar suppression), "are too light and practically not equipped with weapons, that is, in fact, they are not full-fledged combat vehicles."
Scherr found it difficult to conduct a comparative analysis of Russian and American products, but he suggested that the United States lags behind the Russian Federation in developing large ground-based combat robots "because of ethical difficulties, suggesting that the machine could be destroyed by a machine", as well as "lack of ideas."
According to the resource, In 2017, the US Army will spend $ 521 million on drones, of which 79% falls on aircraft systems. Only 4% funding goes to ground systems, mainly designed to detect and deactivate roadside mines.