The head of the Donetsk People's Republic, Alexander Zakharchenko, announced that he would stand as a candidate for the post of head of the republic in 2018. Zakharchenko made an announcement about his decision in an interview
Donetsk News Agency
. The interview was given after the 3-th Congress of the Public Movement "Donetsk Republic".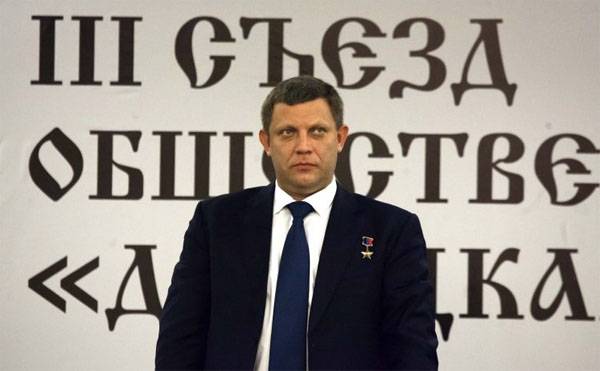 At the congress, public activists turned to Alexander Zakharchenko with a proposal to nominate their candidacy for the main position in the DPR. In particular, Andrei Bedilo, head of the Torez territorial association of a public movement, addressed the President of the Zaporizhia Zaharchenko.
The response of the current head of the DPR:
I thought about this question for a long time. If the people of the republic believe in me, of course, I will participate in the elections in 2018. I want to express my gratitude for the trust that was expressed to me. If you pay attention to the situation in the international arena, specifically in Minsk, we all see that Ukraine has not even been able to accept the law on special status in full. Obviously, we perceive such actions of Kiev unequivocally - as an unwillingness to perform "Minsk". Given this, I see no obstacles in order to take part in the election of the Head of 2018 of the year as a representative of the Public movement "Donetsk Republic".

Recall that earlier Ukraine announced the "impossibility of recognizing elections" in special areas of the Donetsk and Lugansk regions, as the LDNR is called in Kiev. Kiev requires admission to these elections Ukrainian parties. And in Donetsk and Lugansk they demand from Kiev to fulfill the Minsk agreements, and for a start - at least read them from beginning to end.