At this time, about 200 people remain near the building of the Verkhovna Rada of Ukraine. Such information is published by the Ministry of Internal Affairs of the country. According to the protest rally participants themselves, until 500, people continue to block the entrances and exits of the VRU building, urging deputies to begin adopting "reformist laws." In particular, they demand the adoption of a law on anti-corruption courts from people's deputies. In fact, this suggests that no one in Ukraine trusts the existing judicial system for a long time. In addition, MPs are urged to lift immunity.
The speaker of the Ukrainian parliament, Andrei Paruby, called on the protesters to unblock the building of the Verkhovna Rada. According to Parubiy, "an attack on deputies who are trying to get out of the building is unacceptable."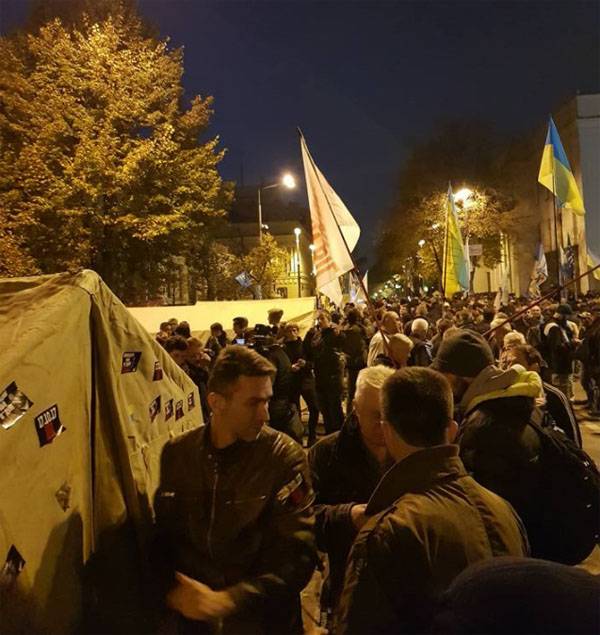 UNIAN cites the statement of the Chairman of the Verkhovna Rada of Ukraine:
I now simply demand from the organizers of the events that the free entry and exit from the Verkhovna Rada of Ukraine and people's deputies and workers be ensured.
The complexity of the situation is that today at 15: 00 local time in the building of the VRU Parubiy should meet with the President of Malta, who is visiting Ukraine. As it was stated on the eve, it was in honor of the visit of the head of the Maltese state that gunfire was carried out in the immediate vicinity of the parliament.
Paruby:
In such conditions, it will be extremely difficult for us tomorrow to gather a sufficient number of deputies for voting and for medical reform, for immunity.
The protesters said that Paruby was not looking for pretexts, but was engaged in the business of passing laws.