President Putin explained that the black hole in agriculture in Russia was left behind: the situation had "changed dramatically". Foreign correspondents who have visited Russia consider: agriculture in the country is experiencing a "boom" thanks to Western sanctions. Some Russian ministers are even ready to feed pork ... Indonesia.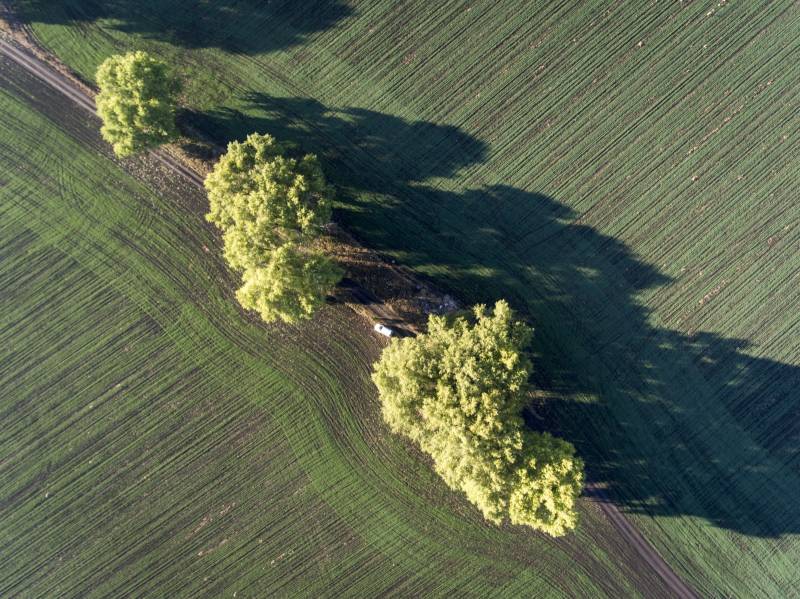 Vladimir Putin said that the situation in Russia's agribusiness complex has changed dramatically. At a meeting on the agro-industrial complex in Voronezh, which was attended by Deputy Prime Minister Arkady Dvorkovich, Minister of Agriculture Alexander Tkachev and other officials, the president noted that agriculture is showing a positive trend. The head of state is sure: the agro-industrial complex of the Russian Federation has become an attractive investment sector, moreover, one of the drivers of economic development. "I recall in this connection the discussions of the beginning of the 2000s, when here and there the same thing was heard that agriculture is a" black hole "," Putin quotes.
"Notebook"
(Voronezh). - How much money come on, they disappear without a trace, and no result. Now the situation has changed dramatically. The average growth rate in 2014-2016 was 103,6 percent. "
Russian manufacturers are strengthening their positions in the domestic market and increasing their export potential, the president stressed. According to the Federal Customs Service, in the first seven months of 2017, exports of products of the agro-industrial complex grew by 18,8%.
Minister Tkachev at the meeting
told
about exporting pork. With this business of Russia "it is impossible to stop". The head of the Ministry of Agriculture cited Germany as an example - a "understandable" country: "I want to cite Germany as an example of export - a seemingly close, understandable country. Half of the pork they sell for export. For example, Germany 5,5 million tons per year produces pork, of which almost 3 million is exported. In all countries, and above all China, Indonesia, part - Japan, Korea and so on. Therefore, of course, in no case can we stop at pork too. "
Vladimir Putin has chilled the minister: "Indonesia is a Muslim country, they don't eat pork there."
It became funny Putin? Or was he ashamed of his minister-farmer? They write about it now even in Turkish newspapers.
"Medya Gunlugu" reports "interesting
news
, Appeared in the newspaper hurriyet.com.tr. The news was entitled: "Putin felt ashamed of the Russian minister's mistake." "The Minister of Agriculture of Russia Alexander Tkachev shocked President Vladimir Putin with the words" we will feed Indonesia with pork, "which can cause an international scandal," translates the text of the original source from the Turkish language
"InoSMI"
.
When Deputy Prime Minister Arkady Dvorkovich, who was sitting near Putin, continued the conversation about selling pork to Indonesia, Tkachev added: "Do not worry, we will feed Indonesia with pork."
And after so many misses, Minister Putin "had to cover his face with his hands."
This news was spread in the Turkish press - Milliyet and Sabah picked up a scandal.
According to the Turkish author, Putin "covers his face with his hands not from shame," but to hide laughter. And the atmosphere itself at the meeting is "quite cheerful."
Jokes jokes, but foreign analysts say: agriculture in Russia really is experiencing a "boom". And thanks to Western sanctions!
Morten Yentoft, who visited Russia in the Norwegian edition
"NRK"
told the European reading public: Russian agriculture is developing just surprisingly!
However, he immediately calls the main reason for development: Moscow banned the import of Western food products, introducing counter-sanctions.
Natalya Parinova is the chief veterinarian of the Zarechnoye farm (north of the Voronezh region). She said that the site is building a room for thirteen thousand cattle for slaughter. In just a few years, a huge meat production enterprise has risen here. Cows imported are Angus animals. The livestock will grow even twice in the next few years. Zarechnoye is already today the largest meat production company. Delegations are constantly coming here. Parinova is sure: such an economy is a "good example" of Russia's revival.
According to her, Zarechny products are sold by customers in large cities, and not only in Voronezh itself, but also in Moscow.
A new slaughterhouse has been built here: cattle are slaughtered in the usual way, and in keeping with the traditions of some religious communities.
The vice-president of the regional administration, Viktor Logvinov, who received the journalist NRK, noted with a smile: "If I'd asked, I would have wished the sanctions to continue for another ten years!"
Logvinov is responsible for agriculture in the Voronezh region, the correspondent points out. "The sanctions allowed us to develop our own food production," he emphasizes. And here it's not only cattle: if before apples were imported into Russia from Poland, now people create apple orchards and grow apples locally.
On the other hand, the situation may change, and then the Russians will again have to withstand competition with foreigners. Nevertheless, the current situation of farms is much more durable than before. Since 2009 in the Voronezh region built seventeen large enterprises for the production of milk (invested about twenty billion rubles). And things do not stand still: in the next 5 years, it is planned to open thirteen new enterprises. The emphasis is on meat production.
But the personal opinion of a foreign correspondent. Having traveled around the region, he admitted: obviously, agriculture in this part of Russia has entered a "heyday".
Here, for example, is the farm of the EkoNiva enterprise in Verkhniy Ikorets. Build a cow and a German milking machine. Total cows here are 2800.
Alexander Vasykhin, chief farm technician, admits: "It is clear that Western sanctions and retaliatory sanctions from Russia are an advantage for us. Thanks to their introduction, we were able to develop agriculture, using, in particular, technologies that are compatible with those used in Europe and America. " "We create many jobs, and we also invest in infrastructure and support the construction of schools and kindergartens," adds Vasihin.
The general director of the EkoNiva-APK holding, Stefan Dürr, turned out to be from the Germans. He came to the USSR in 1989, through an exchange program for specialists. He speaks Russian, German, Norwegian. "The interest [in agriculture] from the youth is one of the most positive phenomena that is now observed in Russian agriculture," he said.
EkoNiva today is Russia's largest milk producer. In five years, Durr intends to increase milk production from 900 tons per day to 3000 tons.
Durr largely supports Vladimir Putin, though not in everything: "I don't want to support everything that President Putin does. However, I believe that in the current situation he is right in many ways. A lot of false information is coming in from both the West and the East. Every day I get acquainted with the websites of the German agency "ARD", where there is a terrible amount of nonsense about Putin and Russia, "Mr. Dürr states.
In his opinion, relations between the West and Russia will be improved. At the same time, however, Russians and foreigners will have to compete in the open market. "We are ready for this," the Russian-German agrarian says with optimism.
* * *
There would be no happiness, but misfortune helped. This Russian proverb quite accurately reflects the situation that representatives of Russian agriculture told foreign journalists. All of them mentioned the benefit of sanctions, and one even wished to extend the sanctions for another ten years. (However, the Americans are unlikely to lift the sanctions even for 10 years: Mr. Obama said that the Russians could not see the lifting of the sanctions until Crimea was returned.)
Russia is unlikely to supply Indonesia with pork, but agriculture does have growth prospects, and the objective European press acknowledges this. Another thing is that if the sanctions are lifted and even if sanctions are relaxed, counter-sanctions will also be lifted, and this will cause a sharp increase in competition. Probably, Polish apples will flood the Russian market again. Do not forget, Russia is a member of the WTO and a participant in an open economy.