Activists of the Rukh New Forces party, Mikhail Saakashvili, and supporters of the Donbass battalion staged a brawl with police officers in the center of Kiev near the cabinet building, after which they broke one of the metal detector frames and broke the fence.
As the Interfax-Ukraine correspondent reports, a scuffle between activists and law enforcement officers arose near a metal detector on Grushevsky Street when several dozen activists of the Rukh New Forces party around 16: 00 tried to carry the tents to the Verkhovna Rada building. They wanted to carry them, bypassing the scope of the metal detector, and law enforcement officers tried to prevent them.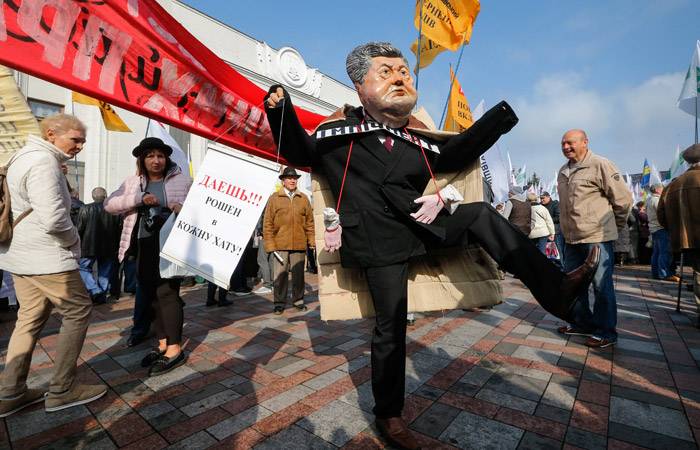 According to eyewitnesses, participants in the action during the collision sprayed an unknown gas, while they themselves put on masks. The protesters continued fighting with the police on the street. Grushevsky, they took from them a few dozen shields, which law enforcement officers kept in the arch of one of the houses opposite the building of the Rada. Mainly in the fights involved representatives of the former battalion "Donbass".
Emergency medical services are on duty in the collision area. Doctors have taken one person unconscious. Also, at least one law enforcement officer suffered in the fray.
The crowd periodically chant "Ukrainians! Ukrainians!"
Earlier, President of Ukraine Petro Poroshenko said that he respects the right of people to peaceful protest, while he stressed the need to ensure the very peaceful nature of the rally near the parliament building in the center of Kiev.
On Tuesday, Rada held a mass protest, organized by a number of Ukrainian political forces, including the party of the ex-president of Georgia, the former governor of the Odessa region, Mikhail Saakashvili, the Movement of New Forces. The protesters demand to abolish parliamentary immunity, create an anti-corruption court and make changes to the electoral legislation. Some participants in the rally declared their intention to "stay as long as you please, even at night."
Arriving at the rally outside the parliament building of Ukraine, Mikhail Saakashvili called for demanding the resignation of Petro Poroshenko, reports
"Interfax"