Large anti-submarine ship of the North
fleet
"Vice Admiral Kulakov" completed anti-piracy shift in the Gulf of Aden and the Red Sea, reports
press office
SF.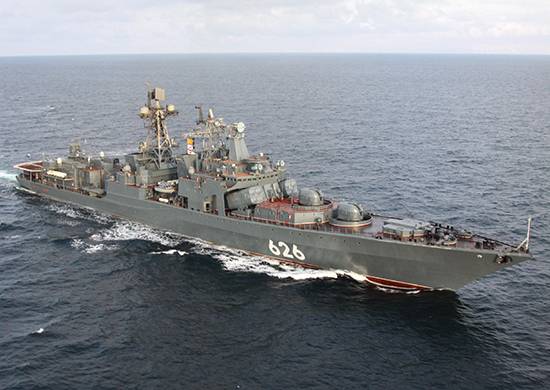 This morning the ship entered the Suez Canal and began to move towards the Mediterranean.
"The crew of the BOD" Vice Admiral Kulakov "operated in the southern part of the Red Sea and Gulf of Aden since the end of August. The main task of the ship was to ensure the regular naval presence of the Russian Navy in the region and the safety of civilian navigation. Russian sailors escorted several foreign vessels flying the flags of Barbados, China and India through dangerous areas of the southern Red Sea and Gulf of Aden, provided observation of the water area, "the release said.
It is noted that "during the fulfillment of the tasks assigned by the Russian seamen in this region about the piracy attacks on civilian vessels have not been fixed."
The fleet was reminded that in September the ship made a business call to replenish the supply of water and fuel to the port of Salalah (Oman). Also, the crew spent several refueling from the tanker "Kama" on the go and during the stay.
In a long hike "Fists" out of Severomorsk 29 June. The ship entered the Red Sea on August 25. During the hike, the BOD passed more than 15000 nautical miles.