At the shipyard in Vishakhapatnam (Andhra Pradesh), a ceremony of transfer to the Indian
fleet
Corvette INS Kiltan, reports
Warspot
with reference to the resource indiatimes.com.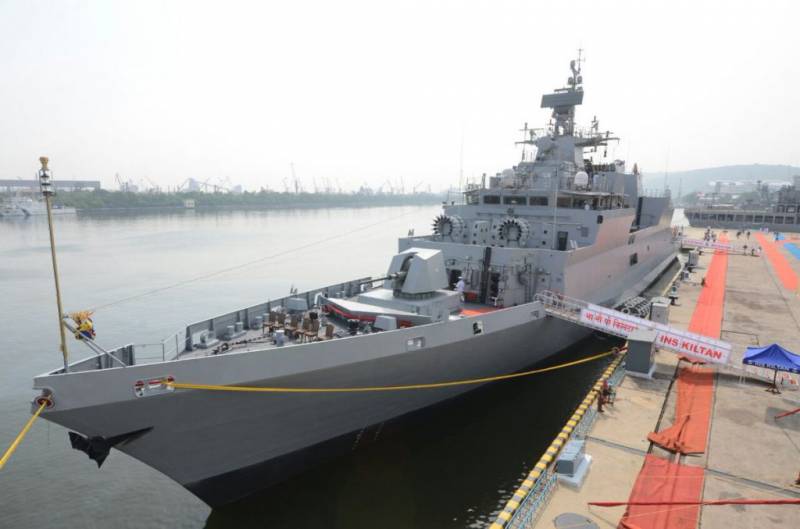 The new corvette is the third of four ordered ships of the Kamorta type (Project 28).
INS Kiltan was laid in August 2010, three years later launched. Sea trials began in May on 2017, and in August the ship was handed over to the fleet for testing.
Representatives of the shipbuilding company "Garden Reach Shipbuilders and Engineers Ltd" (GRSE) noted that INS Kiltan "is one of the most high-tech in the Indian fleet and 80% consists of domestic components."
The ship was built using stealth technology, its length is about 110 m, width is 14 m. The corvette case "is made of very strong steel DMR 249A of Indian production, but high-strength reinforced carbon-fiber plastics were widely used in the design of the ship, says the publication.
The maximum speed of the corvette - 25 nodes (four diesel engines are made to meet the requirements of low noise, necessary for the ship-hunter for submarines). The autonomy of the voyage is 15 days, the crew is 180 people.
The ship is armed with 76-mm gun mounts, two 30-mm rapid-fire cannons, heavy torpedoes, as well as several types of missiles and the latest EW system. Space is provided for a Westland Sea King Mk.42B helicopter.