The first of the three anti-sabotage boats of the Rook project, which entered service with the anti-sabotage units and the main submarine base of the North
fleet
(SF) Gadzhievo, passed a scheduled dock inspection at a shipyard in the Murmansk region.
In the process of docking, the condition of the boat hull was checked, the bottom was cleaned and tinted. Also, a board with the name "Yunarmeets Zapolyarya" was attached to the board of the boat. This name was given to the boat in a solemn ceremony at the beginning of the year, on the day of the first rise of the Naval flag on the first two boats, which entered service with the Northern Fleet.
- said the press service of the Northern Fleet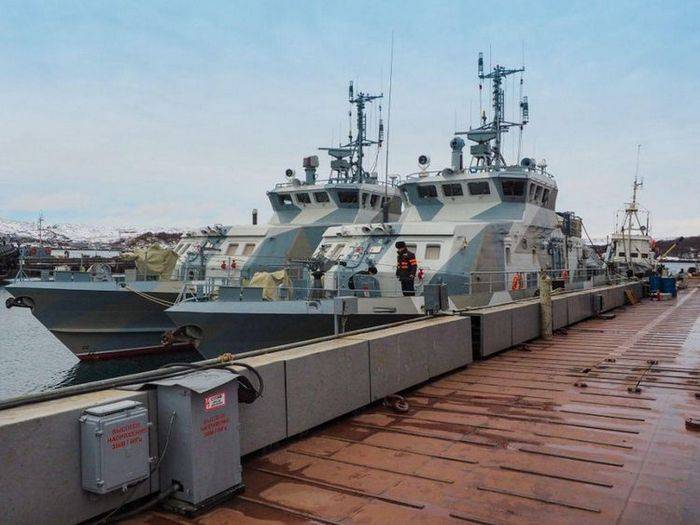 The command of the submarine forces of the Federation Council initiated the assignment of names to two more anti-sabotage boats of the main submariner base. They are planned to be named after Hero of the Soviet Union Mahomet Hajiyev, who commanded a division of submarines during World War II (he laid down the tradition of saluting when returning to the base after a successful march. The number of salute shots was equal to the number of sunk ships and ships of the enemy) and the Hero of the Russian Federation sailor Sergey Preminin, who at the cost of his own life prevented a radiation catastrophe on an emergency submarine K-219 in October 1986 of the year in the Sargasso Sea.
The boats of the 21980 Rook project were developed by the Nizhny Novgorod Vimpel Design Bureau, built at the shipyard in Rybinsk (Yaroslavl Region). They are designed to perform the tasks of protecting water areas, and combat sabotage forces and means in the waters of bases and in the near approaches to them. The boats are equipped with large-caliber machine guns, anti-sabotage grenade launchers and man-portable air defense missile systems. Electronic weapons allows you to search for objects that are located and moving under water.