The press service of the United Aircraft Corporation announces the flight of the MS-21-300 prototype aircraft from Irkutsk to the Zhukovsky airfield near Moscow. It is in the Moscow region that all the necessary (further) flight and ground tests will be carried out. From the message
press service
:
On Tuesday, the plane covered a distance of about 4,5 thousand kilometers without landing six hours. The flight took place at an altitude of 10 thousands of meters.
The aircraft commander during the flight is the Hero of Russia, test pilot Oleg Kononenko. He reported that the flight was in normal mode, without causing any complaints from the crew. All onboard systems worked without any failures.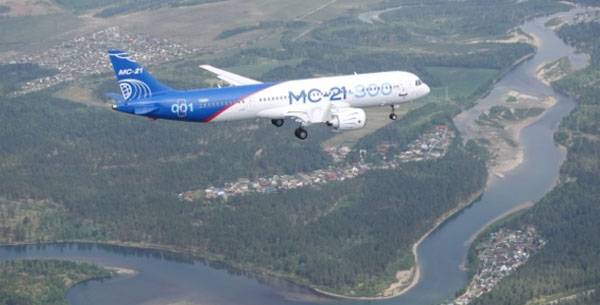 President of United Aircraft Corporation PJSC (UAC) and Irkut Corporation PJSC Yury Slyusar:
Today opens a new stage in
stories
create MC-21. Ahead of the continuation of the flight and ground tests of the aircraft, the connection to this process of new machines, certification and deployment of mass production. Along with Irkut, a number of enterprises of the United Aircraft Building Corporation, partners from Rostec and leading foreign companies are taking part in the MC-21 program. This program brought our enterprises to a new technological level and ensured professional growth of specialists.
From the statement of the Vice-President - General Designer of Irkut PJSC Oleg Demchenko:
The flight tests of the MS-21 conducted at the Irkutsk plant and the long flight of the aircraft confirm the declared characteristics of the machine. From today, the tests will be continued on the basis of the Flight Test and Development Complex of the OKB Design Bureau. A.S. Yakovlev. Especially for the basing of the MS-21 aircraft, a new hangar has been built, in which a modern complex for collecting, processing and storing flight information, recorded during flight and ground tests, has been created.