In the coming years, the order of the Ministry of Defense for auxiliary vessels will be able to ensure loading of the Kaliningrad plant "Yantar", reports
Kommersant
.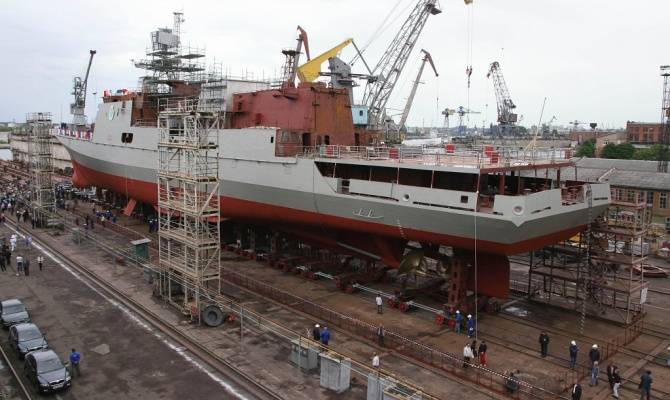 "From 2019 of the year, the prospect of obtaining contracts from the Ministry of Defense for the construction of auxiliary vessels opens up, since we are approved as the sole executor of such orders. In addition, the General Directorate of Deep-Sea Research (GUGI) of the Ministry of Defense of the Russian Federation intends to build another ship of the type "Almaz", its bookmark is scheduled for 2019 year, "the newspaper reports.
R '° RјR S,RμSЂRoR ° F "Rμ RЅRμ SѓRєR ° F · ° F RЅRѕ, RЅR ° RєR ° RєRoRμ RoRјRμRЅRЅRѕ SЃSѓRґR ° RїSЂRμS,RμRЅRґSѓRμS, B" RЇRЅS,R ° SЂSЊV "Ryo SЃRєRѕR" SЊRєRѕ Roes ... ± RїRѕS,SЂRμR уется
the fleet
.
Sources of the publication point out that the plant will need new orders in the coming years. "The frigates of the 11356 project, which provided the main load of the plant, are almost completed: the Admiral Makarov (third in the series) is practically handed over to the fleet, the Butakov is launched, the Istomin stands on the stocks with a practically finished superstructure, the Kornilov hull is assembled, but the superstructure is not installed, "the article says.
After the start of the Russian-Ukrainian conflict, the last three frigates never received a gas turbine power plant from the city of Nikolaev.
It is also reported that "the completion of the ships will be carried out in the event that India buys them, negotiations with which have been going on for more than a year."
According to sources in the industry, the completion of the fourth and fifth "admirals" will take no more than six months.