The CAA, with the support of the Russian Aerospace Forces of the Russian Federation, cleared several settlements of the Deir ez-Zor province from the terrorists, the SDF liberated the area in the city of Rakka, and the Israeli Air Force attacked the air defense battery in Damascus, reports
FAN
with reference to Syrian sources.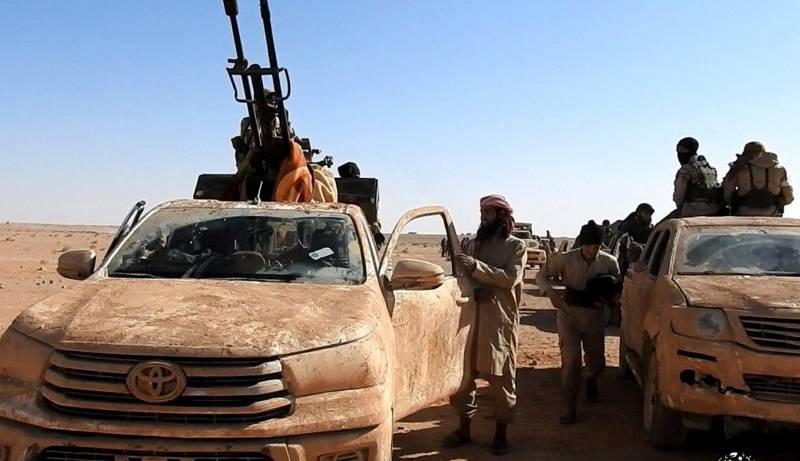 During the day, the Syrian Arab Army (CAA) conducted artillery shelling of fortified militant units of radical formations near the Yarmuk refugee camp (Damascus). In addition, the CAA artillery bombarded the positions of the radicals in the area of ​​Kafr Batna, and continued to strike at the deployment zones of the militants in Eastern Gut. The Israeli Air Force hit the AAA anti-aircraft battery, located near Damascus. No injuries reported.
Turkish units entered the territory of Aleppo. In the north of the region, clashes between the Syrian Democratic Forces (SDF) and the pro-Turkish Syrian Free Army (FSA) were fixed.
The Russian Aerospace Forces conducted a series of air strikes against the deployment zones of ISIS terrorists (grouping prohibited in the Russian Federation) in the areas of Al Bulel and Al Muhasan in the south-east of Deir ez-Zor province. As a result, several pieces of equipment and dozens of militants were destroyed. The CAA is fighting with terrorists for control of the height in the suburbs of Deir ez-Zor (Al-Umar district). In the afternoon, the CAA, with the support of the Russian Aerospace Force, liberated the city of Al-Husseinia from terrorists. In addition, the villages of Zabari, Salou and Tub, located between the administrative center of the province of Deir ez-Zor and Al-Mayadin, were liberated.
The democratic forces of Syria (SDF) freed from the terrorists the IG the district of Al-Andalus, the administrative center of the province of Racca. Fighting between Kurdish militias and radical Islamists continues in the neighborhoods of Al-Harban and Al-Fargun.
Near the headquarters of the Syrian Democratic Forces (SDF), located in the Hadjah region in the southeast of Hasakah, a mined motorcycle exploded. As a result, several soldiers of the Kurdish militia were killed and injured. Accurate data on the losses of the "democratic army" has not been reported.