By 2020, the Russian army will be able to completely replace the outdated Su-24 with new front-line bombers. Today, October 16, the TASS news agency reported that the Sukhoi company handed over to the Russian Defense Ministry a batch of Su-34 front bomber.
Today, the company "Sukhoi" handed over to the Ministry of Defense of the Russian Federation the second batch of Su-34 front-line bombers as part of the 2017 state defense order of the year. The planes took off from the airfield of the Novosibirsk Aviation Plant named after V.P. Chkalov and headed to the place of deployment
- The press service of PJSC "Company" Sukhoi.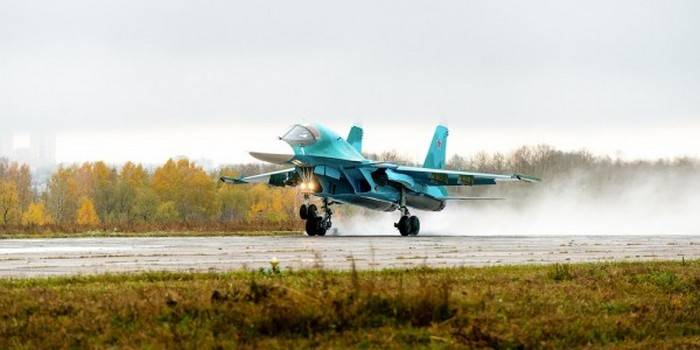 To date, Sukhoi has collected more than a hundred Su-34 front-line bombers. The plant received its first order for the 32 of the Su-34 aircraft in the 2008 year, the second (on the 92 aircraft) in the 2012 year. The completion of the contract is scheduled for 2020 year, after which the Ministry of Defense plans to order more from 30 to 70 Su-34.
Su-34 - a multifunctional fighter-bomber, designed to strike at ground and surface targets in the face of strong opposition to enemy air defenses. In terms of its combat capabilities, the Su-34 belongs to the 4 ++ generation and is capable of performing basic combat missions without escorting fighters. Due to the high speed and maneuverability of the bomber can independently conduct an air battle with enemy fighters. The plane received the unofficial nickname "Duckling" because of the nose, in the form resembling a duck's beak, reports
"Warspot"
.