The Central Election Commission of the Republic of Kyrgyzstan publishes the results of the last presidential elections. It is reported that with a general turnout of just over 50% of voters, the elections were declared valid. Victory in the first round of voting is celebrated by Sooronbay Jeenbekov, who collected about 53% of votes.
His closest persecutor, Omurbek Babanov, got about 36% of votes on the basis of a vote of Kyrgyz voters. The remaining votes were distributed almost evenly among the nine other candidates. A certain percentage of the ballots was spoiled.
Russian President Vladimir Putin congratulated the elected president of the Republic of Kyrgyzstan on his victory in the elections.
From the message on the official
Kremlin site
:
Vladimir Putin sent a congratulatory telegram to Sooronbai Jeenbekov on the occasion of his election as President of the Kyrgyz Republic. In the telegram, the head of the Russian state stressed that the voting results confirmed the high authority that Sooronbay Zheenbekov enjoys among his compatriots and testifies to the recognition of his merits in solving current issues of the socio-economic development of Kyrgyzstan.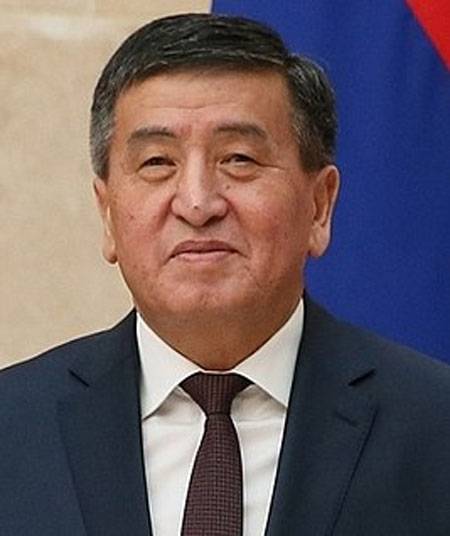 It was noted that the President of the Russian Federation highly appreciates the personal contribution of Sooronbai Jeenbekov to the development of bilateral relations between the Russian Federation and the Kyrgyz Republic.
From the report:
The head of the Russian state expressed confidence that with joint efforts Russia and Kyrgyzstan will ensure further expansion of the full range of bilateral relations, as well as constructive cooperation within the Eurasian Economic Union and other international structures, which "meets the fundamental interests of the friendly peoples of our countries, is in line with the consolidation regional stability and security. "
For reference: Sooronbay Zheenbekovu 58 years. He is a graduate of the Kyrgyz Agricultural Institute (specialty - zoological engineer), as well as the Faculty of Economics of the Kyrgyz Agrarian University (specialty - accountant). Three times he was a member of the Kyrgyz parliament. He started his career as a rural teacher in the Osh region. In 2016-2017 (on August 21) he served as the head of the government of the republic. Positioned as the successor to Almazbek Atambayev.