The footage of the Syrian Defense Ministry video captured one of the world's most powerful tandem anti-tank rocket grenades PG-7BR "Summary" of Russian production. Their government forces are actively using in the province of Deir ez-Zor, reports
Messenger of Mordovia
.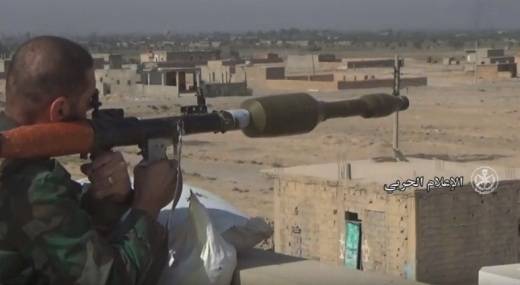 Currently, the need for such ammunition for RPG-7 has increased significantly. "The fact is that terrorists actively use trophy
Tanks
who received additional protection. It can be "reactive armor", containers with various fillers, trellised screens, "writes the author of the material Roman Katkov.
In addition, the force of ammunition can pierce brickwork 2 meter thick or a layer of reinforced concrete in a half, or the wall of the Substitution Center. Such capabilities PG-7BP are used in the assault of the enemy defense.
The video can also see the Soviet machine gun Degtyarev. Currently, the machine gun is officially decommissioned by the Syrian army, but, nevertheless, the soldiers of the government forces continue to use it.