This year, pilots at the Borisoglebsky Training Center have fully mastered modes that simulate flights on Su-34 front-line bombers, Su-30SM, Su-35 and MiG-29 fighters. For this purpose, special sensors were installed on the Yak-130 that affect the controls of the vehicle, and special algorithms were introduced in the software that completely imitate piloting features and flight modes on heavier fighters and front bomber. This is reported
News
.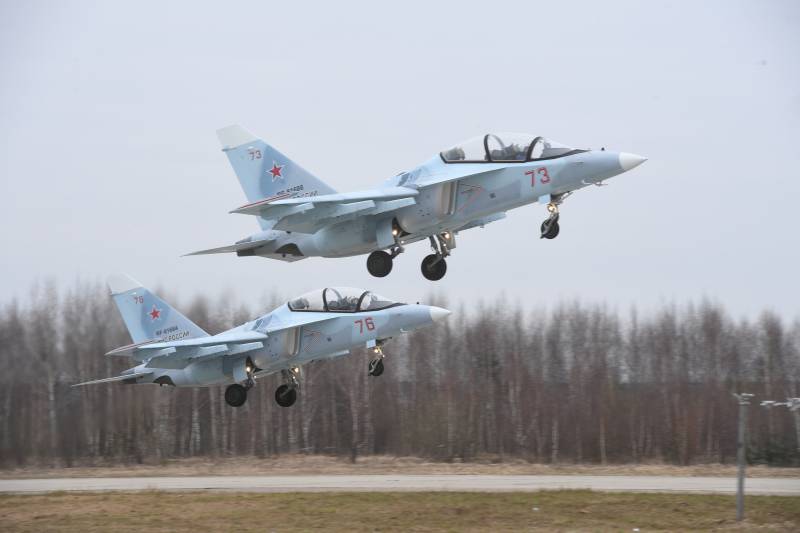 In the Main Committee, the VKS said that earlier, due to the relatively low loading of flight schools, the "transformer" option was not used. However, now, due to the increase in the flight program one and a half times, as well as the repeated increase in the number of cadets, the capabilities of the Yak-130 turned out to be more than ever needed.
The Yak-130 was the first combat trainer aircraft created in modern Russia. He was called upon to replace obsolete imported vehicles, above all Czechoslovakia L-39. Now the VKS has over 90 new aircraft, and in 2018, their number will exceed 100 units.
Military expert Anton Lavrov:
We now have a lot of types of aircraft in service, and each of them has its own characteristics. Having them all in the same training center is problematic, and the reconfiguration option on the Yak-130 allows at least partially solve this problem. In addition, the Yak-130 allows the training of pilots for the latest generation of fighters. This is an advanced aircraft. There is a modern cabin and controls. Old cars are not suitable for this.
An important advantage of the Yak-130 is the relative cheapness of its operation.
The lighter the aircraft, the less fuel it consumes and requires less time and effort for maintenance. Taking into account the dramatic expansion of the training programs and the flight of cadets, the financial component becomes quite substantial,
The expert noted.